Which Humidifier is Best for Winter
The cold season is getting close and soon enough we're going to start the radiators! Central heating installations, handy as they might be can reduce the humidity in the rooms, which can create discomfort, dry skin and respiratory issues.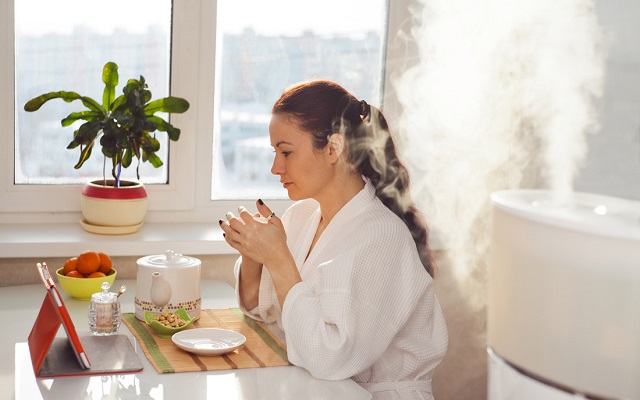 A study conducted in 2013 reveals that air humidity of 43% or more significantly reduces the spread of the influenza viruses. More specifically, in a low-humidity environment of 70-77%, these viruses certainly get transmitted by switching from one man to another. In a humid environment of 43% or more, this percentage drops to 14%. The results are almost identical to those of a 2009 study. And then the researchers conclude that the influenza virus transmission is limited in humid conditions.
Therefore,  a humidifier is a must-have in every home, especially during winter. It helps to maintain an optimal state of health, ensures a beautiful and bright skin and cares for your home, protecting the massive wood furniture.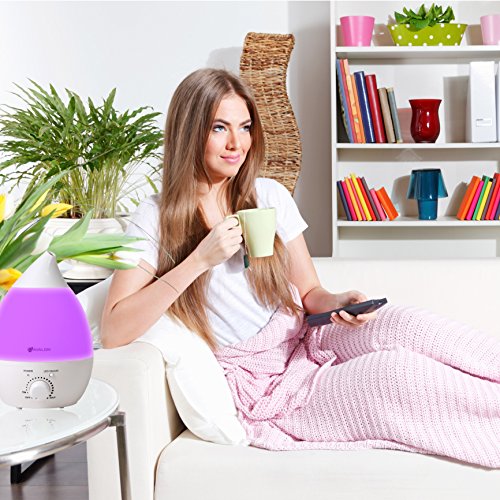 Using a humidifier during winter reduces the risk of infection. Viruses and bacteria do not transmit as well in a humid air. It is a way for your family to get rid of severe flu episodes this winter.
A hydrated skin:  the cold and very dry air dehydrates the skin. This can lead to problems such as premature wrinkles or tired, fragile or flaky skin. A humidifier can solve all these problems.
Better sleep and easier breathing:   the feeling of dryness that you feel in the nose during the winter is mainly due to the lack of humidity. It is responsible for the dry sinuses and makes you vulnerable to viruses and bacteria. The easiest way to solve this problem: just start the humidifier at night for a comfortable and restful sleep.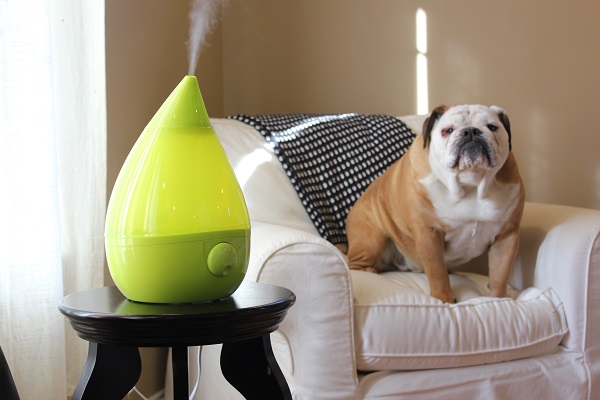 A humidifier can facilitate a speedy recovery from a cold or flu.  If you still get a  cold, the flu or develop a sinus infection, a humidifier helps you heal quicker. That's because it provides the necessary humidity for your nose and throat. That way you prevent the uncontrollable coughing and sneezing, protecting your respiratory tract from further irritation.
Protection for the massive wood furniture: very dry air can damage the furniture or doors in your home.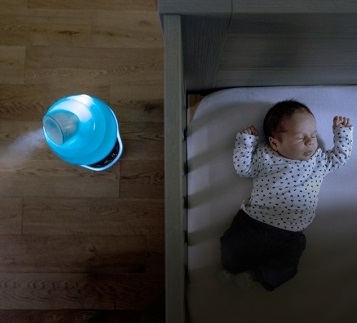 Also, if you have a wooden structure, it can be affected. Dry air causes cracks in the wood. A humidifier ensures the integrity of these things, for years.
Prevent static energy formation– avoid the situations when you seem to get electrocuted whenever you touch something. These episodes are much more common in winter and are another effect of the very dry air.
Sleep better:  a humidifier can improve your sleep quality- it reduces the snoring by freeing the airways and keeping them hydrated.
Which Humidifier is Best for Winter?
The air humidifier is a device designed to improve the percentage of humidity in the air inside a certain space. This device is mainly used in winter, the season during which the humidity in the air is in decline. This is due to the use of heaters like radiators that run at full speed. The more the interior of the home is heated, the more the need to humidify the surrounding air increases. Indeed, the moisture content should ideally be between 40 and 60%, yet in winter, the rate drops to below 30%, causing some discomfort or illness. To alleviate this problem, using a humidifier makes it possible to regulate the humidity level to normal. Its use will undoubtedly contribute to the well-being of the occupants of the house. To find more about the ideal indoor humidity, you can check out this post here.
Humidifiers are indispensable in winter but they must be carefully monitored and cared for as they can create the ideal environment for bacteria and mold growth. Such devices must be cleaned weekly. Even so, it is advisable to change the filters frequently. Last but not least, you should monitor the moisture level in the house and make sure it does not exceed 50%. A hygrometer helps with that and the best part is that some humidifiers have such a function included.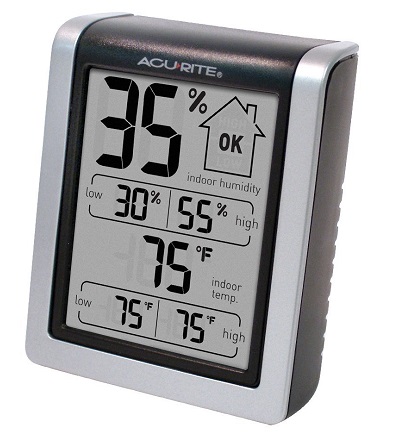 Warm Mist Humidifier for Winter
A warm mist humidifier is especially recommended for winter. It boils water, it destroys potential pathogens and it is a great aid for mold allergy sufferers. Hot steam (especially if you add antiseptic volatile oils) prevents the spread of viruses responsible for colds and flu. A hot mist humidifier also keeps the room temperature warmer, thus reducing heating costs.
A disadvantage of these devices is that they require frequent filter changes (hot water encourages bacterial formation). Also, such a gadget should be handled with caution due to the high temperature of the steam they produce.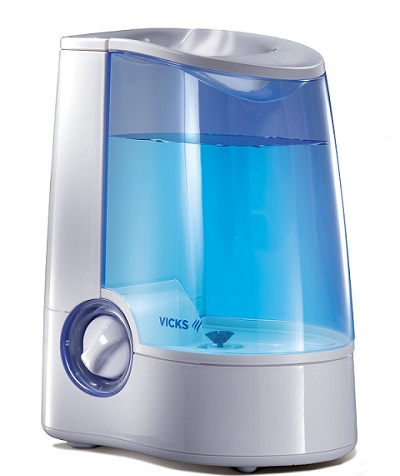 DETAILS
PROS
Automatic shut off
2 modes high and low
Solid price point
CONS
Calcium builds up on the heating element but vinegar soaks every now and then really helps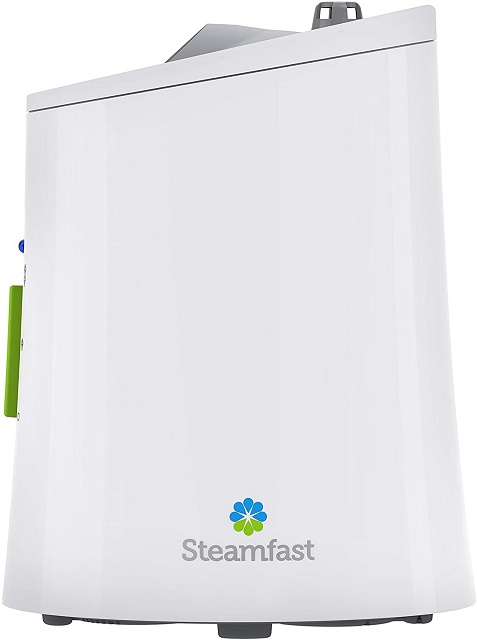 PROS
Easy to fill and spill free; great design
Quiet
No white dust residue
CONS
They run HOT so you need to be careful around it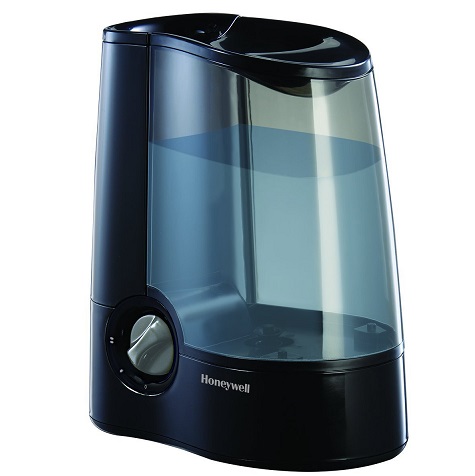 DETAILS
PROS
Easy maintenance process, which should be done weekly to prolong the product's life
On the high setting it provides humidity for 8-10 hours while on the Low setting, one tankful of water lasts up to 24 hours.
CONS
Having to tip the water container upside down to put it on the base might be regarded as an inconvenient by some users
Cool Mist Humidifier for Winter
The advantage of a cold air humidifier is that you can use it both in summer and winter. In the winter it can present some drawbacks: like giving a feeling of cold. Position it according to the manufacturer's indications and adjust the settings according to the size of the room and you eliminate this shortcoming and achieve the necessary comfort. It is also safer to use when you have pets or small children in the household since it eliminates the risk of accidental burns.
Another advantage of cold air humidifiers is that they cover larger areas, compared to hot air humidifiers, which are suitable for smaller surfaces. It is recommended to use distilled water for them to avoid the "white" dust deposits from the surface of the furniture.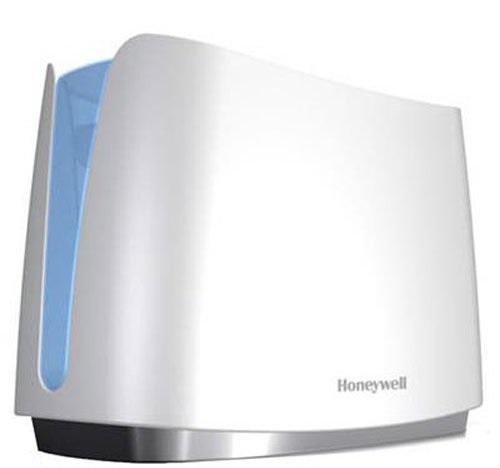 DETAILS
PROS
This unit does not generate white dust, the minerals are absorbed by the wicking filter
Easy to clean: the bottom tray and tank are dishwasher safe
Has a replaceable UV light to help kill germs
CONS
Filter replacements are a little pricey – be sure to clean your filter regularly to extend its life
PROS
Large capacity
Large opening for refilling and cleaning
Mist can be directed easily since the output can be turned in any direction
CONS
To make sure you enjoy only the benefits make sure you dump the water and clean the base after every use
Some users thought satisfied overall mentioned that opening the compartment to fill with water is difficult. The lid is quite tight, and you may have to strain slightly to loosen and open the cap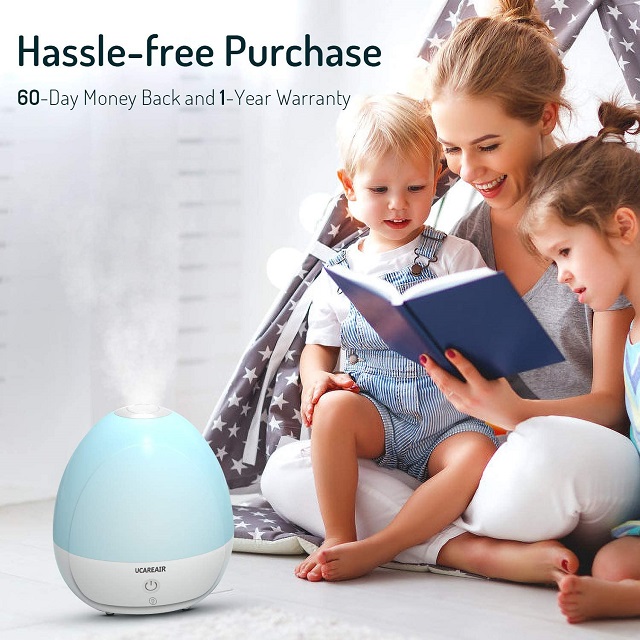 PROS
Quite and sleek
Multiple options for the light function: you can select one color or let it cycle each color or shut off the light and still run the humidifier
Light, easy to carry, refill, and clean
CONS
The light can be quite bright for some
Ultrasonic Humidifier for Winter
An ultrasonic humidifier "strikes" the water with ultrasonic waves and rapid vibrations that "separate" the water in very fine drops and dispersed in the environment using a fan. The model does not use heat, so it is more budget-friendly, with less energy consumption than other types of humidifiers. Another advantage of using such a humidifier is that you do not have to wait long until you see the effect of the appliance. The vaporization is achieved by oscillations, therefore, the effect is instantaneous.
PROS
Has an adjustable nozzle so you can easily direct the mist flow
Low maintenance, easy to use
Relatively quiet while running
CONS
Not enough capacity for overnight use at high speed
Switching between modes (light/no light/mist output) can generate some noisy beeps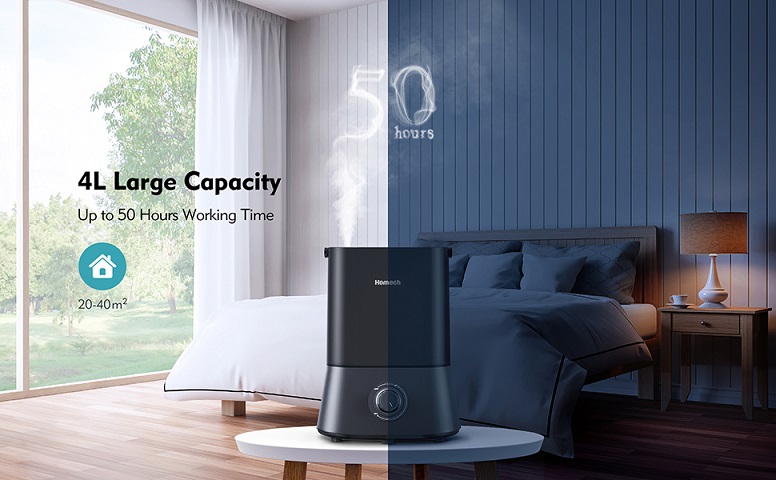 PROS
Really quiet operation-  26dB
Generous tank and extended functionality- up to 50 hours
360°degree rotating nozzle at a height of up to 24 inches ensures an even level of humidity distributed in your home
CONS
Some users found filling it up a bit of a task and would prefer an easier, top filling design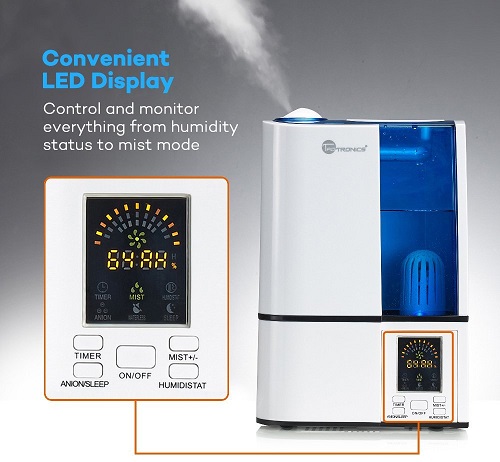 DETAILS
PROS
It has a hygrometer/humidistat feature that monitors the humidity and turns the device on when it goes below the threshold that you give it. The instructions have a recommendation for the humidistat setting
Comes with a night time feature that basically turns off all the LEDs
It has a Microporous Filter Cartridge that filters micro-organisms and bad odor from water in order to deliver healthier & fresher moisture to the air
CONS
The humidistat does not have an internal memory and loses the previous settings when turning the unit off and you have to set your desired parameters again- just a bit of a nuisance!
The airflow cap at the top that is not attached and falls off when refilling if you do not take it off prior- make sure you keep track of it
The Best of Both: Humidifiers with Warm and Cold Mist
In order to get the most out of your humidifier, the market offers models with dual functionalities: warm and cool mist. These models are fantastic to use year-round. They provide amazing benefits both in the long, hot summer days and during the harsh winter days.

PROS
If you want a top model for your household this is worth considering: multiple features, generous size and remote control option make it a versatile choice
Choose between both cool mist and warm mist 
CONS
Refilling the reservoir is a bit of a hassle 
PROS
Easy to use and carry around; great for office and home use
Lifetime Guarantee
CONS
Quite small: 6.09 ounces (or 180 milliliters) but they advertise it as a "mobile" humidifier. If you want something more chech out their larger tank model here

PROS
Large buttons and remote control make it a no-brainer to operate
Quiet, strong mist flow, 360°adjustable dual nozzles
Separate essential oils port on the side
CONS
When going through controls, it produces an annoying beep
EXTRA Credits: Mist Humidifier& Essential Oil Diffuser
A subdivision of phytotherapy, aromatherapy uses essential oils in order to strengthen natural resistance and provide a general state of well-being. Essential oils are wonderful Feng Shui remedies for children, who are especially receptive to their energies. Sprayed in the air, they immediately change the room's energy, creating a balanced environment.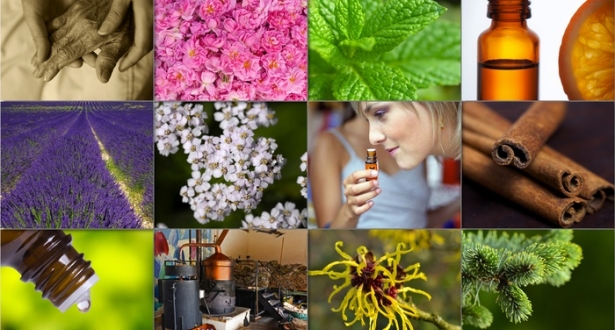 For cold, flu, sadness and fatigue, use a mist humidifier that has a function for aromatherapy and adds fir, pine, cinnamon, vanilla or orange essential oils.
Of course, aromatherapy is not for everybody- some people cannot tolerate certain fragrances or want to avoid the extra work. Plus, in order to benefit from the healing effects, you should use certified, high-quality, natural oils and that could mean extra costs. Still, the option is worth considering!
As you can see the market is abundant in offers when it comes to mist humidifiers and in this post, we only talk about the top 3 in each category but there are much more out there.  It is important that you establish your priorities, know exactly the space in which you plan to use the appliance, and, of course, choose according to your tastes.