Best Mist Humidifiers Diffusers For Your Home
So you've decided that a simple humidifier does not meet your needs anymore. You want something more, something that will also freshen up the air in your room and create a nice, soothing effect.
In that case, a diffuser is the right device for you. It uses water in combination with essential oils, and sends the aromatic mist in the air. Some immediate effects of such device include: cough, cold and flu relief, reduced smell of cigarettes and tobacco, as well as eliminating pet odors.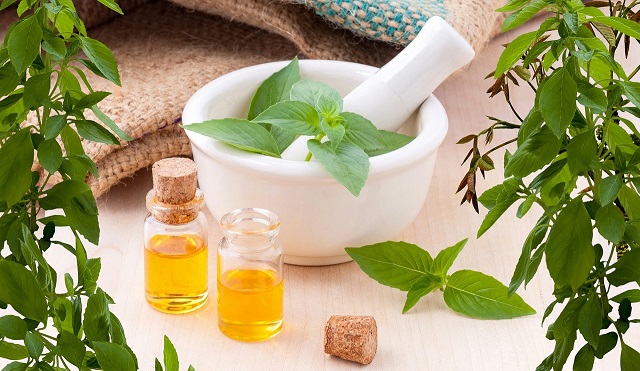 How Do Mist Humidifiers Diffusers Work?
An aroma diffuser is a device that turns water into vapor or mist. The aroma or pleasant smell comes mainly from essential oils. These are mixed in the water and carried in the ambient via mist.
Most aroma diffusers are ultrasonic nebulizers. The ultrasonic diffusers work through a ceramic plate that emits ultrasounds (not perceptible either by humans or pets). These ultrasounds break the water molecules and transform them into a thin, perfumed mist that is pushed to the outside of the diffuser by a fan. This method also contributes to athoroughly humidification of the environment.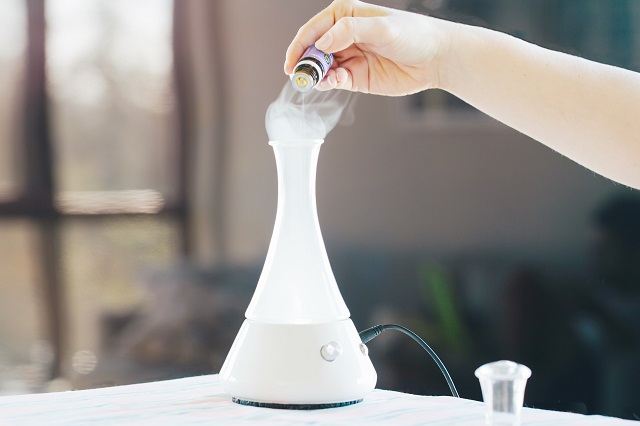 Types of Mist Humidifiers Diffusers
From the very beginning, you must know that such devices come in a variety of patterns and colors. You can choose one that will best suit the decor of your home. Also, the price of the diffuser varies, depending on the material from which it is made.
You can buy a humidifier diffuser made out of plastic, wood, ceramic glass or metal. The more valuable the material, the more costly the product. Given that it is a good that is always on display, it is important to decide on an aesthetically pleasing model .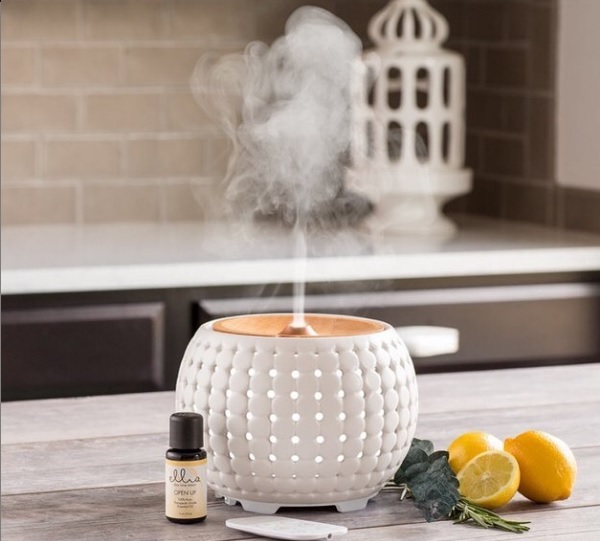 An even more important criterion to consider when buying a mist humidifier diffuser is the type of aroma dispersion it provides. Different modes of operation guarantee different effects, so it is good to know all types of devices before making a purchase.
Best Device for Aromatherapy
Essential Oils Diffuser Humidifier Combo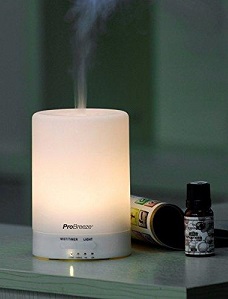 The best way to use essential oils for safe, effective and affordable aromatherapy is to use a diffuser. These small appliances are specifically designed to properly disperse essential oils in the air.
The diffusers break down the essential oils into micro-particles that form a fresh, uniform and extremely fine mist. Unlike hot steam humidifiers that alter the properties of essential oils, diffusers use cold air and a nebulizer to preserve the power of the oils.
When you inhale the oil mist, your body absorbs the fine, pure particles, which has an immediate medicinal effect.
Caution: Traditional diffusers will have a very limited humidification capacity since their water tanks vary between 200 ml and 600 ml (far from the 2 to 6 l humidifiers). If you have a real need for humidification, it is better to move towards an ultrasonic humidifier with diffusion function.
Ultrasonic Air humidifier Diffuser Pack
Ultrasonic humidifiers with cold steam have a nebulizer just like the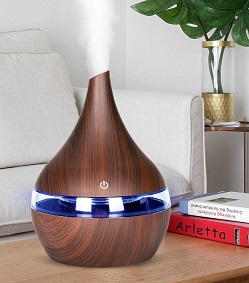 diffusers and they do not use heat. The absence of heat means that all the healing properties of the essential oil will be preserved in the expelled vapor.
However, it is recommended to purchase an ultrasonic humidifier with an essential oil tank independent of the water tank and designed from materials that will not be damaged by oils.
An air humidifier without diffuser function?
If you do not have a diffuser or humidifier with a tank for essential oils and you can not buy one at the moment, there is a way to experience the joys of aromatherapy with your ordinary cold or hot steam humidifier. You can soak a cotton ball with essential oil and place it on the steam outlet nozzle. This trick will diffuse the essential oil in the air to a certain extent, but obviously not as effectively as a diffuser.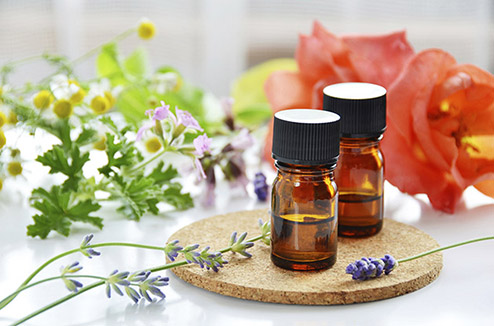 It is quite useful to have a humidifier with essential oil diffuser function since the aromatherapy's benefits are numerous. On the other hand, if you do not need a particular humidification for your interior (or maybe you even you have too much humidity), a simple essential oils diffuser will suffice.
What are the disadvantages of using essential oils directly in your air humidifier?
Plastics Corrosion
Because they are powerful, essential oils can cause serious damage to some humidifiers that are made of lower quality materials or which are simply unsuitable for aromatherapy. This is especially true if you use citrus essential oils, which are particularly harsh on plastics.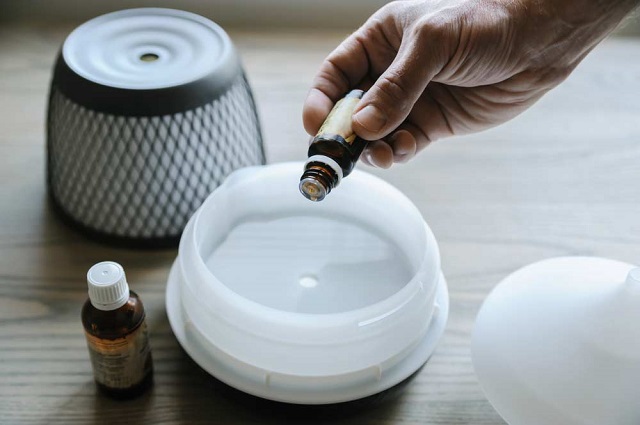 In addition, adding essential oils to your humidifier's water tank can damage seals. Ultimately, this may result in leakage or complete failure of the humidifier.
Mist Finesse
Although humidifiers turn water into a fine mist, it's not enough for essential oils. In order for your body to properly absorb the essential oil, the oil must be transformed into an extremely fine mist.
You will certainly feel therapeutic benefits but not as effective as with a diffuser.
Essential Oils Properties Alteration
If you have a hot steam humidifier, the use of essential oils with this type of device is a waste of money. The heat produced by the boiling water alters or destroys entirely the essential oils' therapeutic properties. The room might smell good but your body will not benefit from any therapeutic benefit.
Oil Deposits on Your Furniture
The continued use of essential oils in a humidifier that does not have a function for that and hence does not separate them into superfine particles, causes long-term oily deposits throughout the home. The oil films accumulate on your furniture, your floors, your walls,etc.
Important Aspects and Functions That Make the Best Mist Humidifiers Diffusers Stand Out
Diffusion Method
Most models are equipped with a single nozzle through which flavor particles are released. More efficient models have two nozzles or a mobile deisgn that allows you to place the stream of mist and essential oil at any angle you need.
LED Display
Present in most electronic devices these days, a LED display provides extra functions for your misthumidifier diffuser. It can produce bright or diffused light, color animations and function as a night light. Some smart displays allow you more control over the whole experience: from changing colors to adjusting the mist stream.
Auto Shut Off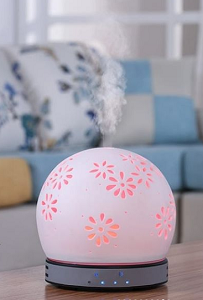 A particularly important function for the long and safe operation of the misthumidifier diffuser, the auto shut off automatically and quietly turns off the device when the tank is empty of water. Otherwise, the whole process would fail and you even risk a fire. The automatic shutdown function is especially practical at night, when your alertness is low.
Other aspects you should consider when investing in misthumidifier diffuser are: the machine should emit a low level of noise if you want to have a relaxing experience. Also, maneuvering the whole process with ease is essential, hence the device should be easy to fill, add oils, control and clean.
As you can see there are plenty of reasons to use a humidifier with essential oil diffuser function if you want to get the most benefits from the aromatherapy. The market has a huge variety of models available and in the following segment you can check some of the best.
Here is our list for some of the best and most affordable diffusers on the market
Viva Naturals Aromatherapy Oil Air Difuser and Humidifier
No products found.
This Viva Naturals diffuser and humidifier has a 400 ml tank and uses ultrasonic technology to genlty disperse cool, soothing essential oil mist throughout your home. The elegant wood grain finish and 7 different LED modes ensure an elevated, sensorial experience. Automatic Shut off and 4 mist modes provide safe and extended control for the user.
Pros:
Does a good job covering a large room
Controllable LED lights
A single fill easily lasts for two nights on low setting and about ~9 hours on high mist setting
Cons:
Laks a tight seal: the dome shaped lid freely sits on top of the water chamber and moving the device without care can cause water to spill
No products found.
URPOWER 2nd
The upgrated URPOWER essential oil diffuser is the ideal device to use when you want to enjoy the perfect, comfortable ambient in small bedrooms, hotel rooms, tabletops and even workplace cubicles. It has a decent, 100 ml water tank and works up to 6 hours on a single water filling. Plus, it comes with one of the most affordable prices on the market. It produces a generous amount of mist that efficiently fights dryness and stuffiness in the air. Furthermore, it features an option to change 7 different LED colors and make the room more appealing. Very handy, it provides control over the mist mechanism offering continuous and intermittent mode. The package includes a measuring cup for convenient water filling. Lastly, you won't sense it's operation because it is whisper-quiet. It has 4.5 stars reviews ( thousands of them)!
Pros:
Affordable
Colour changing led
Auto Shut Off
Quiet
Cons:
Hard to open
Small tank
Some find the aroma diffusing quite modest in scale
InnoGear Upgraded Versionl Oil Diffuser Portable Ultrasonic Mist Humidifier
This No. 1 in aromatherapy diffusers segment doubles as an enthusiastic ultrasonic, cool mist humidifier. The 100 ml, upgrated InnoGear facilitates a safe, customizable scene with highlights such as: 2 mist modes– Intermittent/Continuous, 7 Color LED Lights, whisper quiet operation and waterless, auto shut-off.
Pros:
Small and compact but it lasts for 9 hours on a ridiculously low amount of water
Easy to control color/water output
Cons:
The plug in is located on the bottom of the unit which means some juggling can occur when you want to power your device filled with water and oil. Of course you can opt to plug in and out directly into the socket and that solves it.
Some customers found the ON light a bit aggressive
Essential Oil Diffuser By Smiley Daisy
SmileyDaisy is a company that makes some of the best diffusers on the market. One of those is the Hibiscus diffuser. Masterfully designed, it boasts an ultrasonic water-oxygen diffusing feature which maintains the proper molecular structure of the essential oils.
With full water capacity ( 350 ml ), it can run for about six hours and has an auto-off feature, once the tank is empty.
The diffuser has two mist mode settings: continuous mist (running non-stop until it runs out of water), or two hours auto shut-off. For optimum performance, use five drops of essential oils.
Pros:
You can use citrus essential oils with it which some diffusers cannot handle due to it's extra corrosive power
When you choose colors off it goes completely dark
Nice design and elegant ambiental lights
Cons:
The lid is a little tough to get off
It can be a bit loud- every setting has a beep and it's a bit too loud sometimes- if you're a VERY light sleeper it may bother you
URPOWER Square Aromatherapy Diffuser Humidifier
This URPOWER diffuser helps not only to humidify your room but also to enjoy the benefits of the essential oils and fresh, perfumed air in your room. The nice design and 7 LEDs ambiental lights are a visual plus. Also, the device is pretty quiet so you can absolutely use it during sleep.
Pros
It produces a steady strong cool air mist.
Generous 700ml capacity tank ensures up to 20 hours of functionality
Shut off safety feature when out of water
4 misting options—1 hour, 3 hours, 6 hours, or ON (constant stream)
Eye catching LED colors
Cons
It produces a water sloshing sound which some might find relaxing but some might not like
Water collects inside the lid like in a green house so when you slide it off be sure to flip it onto it's back quickly to avoid drips- keep a towel close by.
VicTsing 2nd Version Essential Oil Diffuser Ultrasonic Cool Mist Humidifier
This soothing and stylish diffuser conveys excellent bang for the buck! Smart design and whisper quiet functionality blend to deliver a user- friendly, customizable experience. The forte' aspects of this product are: roomy, 300 ml water tank, sufficient for 6 hours of continuous use, comprehensive control over the mist and light modes.
No products found.
Pros:
Auto shut off
Includes timer: 1 hour/3 hours/6 hours/steady on
Quiet operation
Decent runtime
The LED light can change automatically.You can also freeze the color you want. The color intensity is adjustable between Bright and Dim.
Cons:
Beeps when shuts off automatically
Plug in on the bottom
No products found.
ASAKUKI 500ml Premium Diffuser Ultrasonic Humidifier
The Ultrasonic ASAKUKI premium humidifier aims to humidify air, improve sleep and provide stress relief using water and essential oils. This product has all the standard features for a great humidifier diffuser- 7 changing LED lights, continuous or intermittent mist mode and auto-off safety switch. Dimming the ambiental lights or opting between high or low mist emission makes the model stand out.
Pros:
Auto switch off function
Decent 500ml water tank, could run all night on one tank
No parts heat up, the mist is cool and the unit is cool.
Small enough not to be overly noticeable
Cons:
On a high mist setting it lasts 7-8 hours tops
It beeps every time you touch a button to make adjustments
Signstek Ultrasonic Air Humidifier Aroma Oil Diffuser
If you want a large diffuser, capable of long running with one tank fill and don't want to break the bank, the Signstek is worh considering.
1.5L water tank and dual nozzle sprayer combined with ultrasonic whisper-quiet operation ensure relief and relaxation.
Pros:
Large Capacity of 1.5L water ensure optimal
coverage up to 20 square meters
Adjustable mist intensity and direction of spray jet
Auto Shut Off
Cons:
The indicator light is a bit harsh
Hard to clean
Best Misthumidifier Diffusers with a Nice Design
InnoGear 2019 Premium Diffuser Ultrasonic Humidifier
With some of the highest-rated and most popular diffusers on the market, InnoGears focuses also on looks with this premium model. This eye-catcher has some fantastic timer options, a generous 500ml reservoir that lasts all night on high mist mode and can run with all the lights turned off, which is a plus for light sleepers.
PROS
Working Time: 13~15 hours in weak mist, 8~10 hours in strong mist
Modern Decorative Iron Cover
Multiple customization options
Quiet and Auto Shut Off
CONS
Occasionally, it makes a small amount of noise (water-like sounds)
Hathaspace Aroma Diffuser Ultrasonic Cool Mist Humidifier
Modern design and an Italian marble coating help this diffuser elevate any décor. The 350ml reservoir and improved misting technology combine to ensure perfect coverage for larger spaces, up to 300 sq. ft.
PROS
Two mist modes (high and low) provide the healing and relaxing ambient up to 18 hours before refilling
Seven soothing colors, bright/dim flexibility, and an auto cycle mode
Automatically Shuts Off
CONS
It makes a little buzzing sound while working, like a little fan running inside
Glass Aromatic Essential Oil Diffuser Cold Mist Humidifier
This vase-shaped diffuser is like a work of art. It gradually dims to lull you to sleep and gently wakes you up by filling the room with a soft light in the morning. The diffuser works ultra-quietly and shuts off automatically for a smooth experience. The 4-time setting modes allows a personalized trail: 0.5H, 1H, 2H, 3H and when it reaches the set time range, it stops working. This model comes with 7 ambient colors that one can cycle or choose a fixed color.
PROS
Artistic glass cover adopts unique hand-blown glass vase design
Automatically shuts off when dry for added safety timer options
The color and brightness of each light can be set individually
CONS
Small size, 100 ml tank
Does not have a setting to run non-stop- and anyway, the small tank holds up for the maximum 3 hours tops so, consider your necessities before buying
Smart Tech Diffuser Humidifiers ALEXA and Google Compatible
ASAKUKI Smart Essential Oil Diffuser Humidifier
App-controlled gadgets are the rave these days! The users find intense enjoyment in controlling different features with their smartphones. Apart from the practicality aspect, the enhanced comfort and precision drive this mass enthusiasm directed at smart.
ASAKUKI already has a popular diffuser humidifier on the market and we mentioned it above. Pairing a successful product with smart tech can't be but an inspired move. If you want to control the time, lights and amount of mist released in the room via your mobile check out this model and you might be pleasantly surprised.
PROS
500ml large water tank can run up to 16 hours. Perfect for any room 200+ sq.ft.
Classic design and natural wood grain finish
You can control it via App and Alexa
Auto shut off when running out of water
CONS
It DEFAULTS every time it shuts off so you have to go back in the app and customize it to your needs
The colors are intense, not very relaxing for night time
For more smart humidifiers check out this dedicated post here.
To conclude, the market has plenty to offer when it comes to mist humidifiers diffusers. Make sure to take into consideration your expectations and the space you intend to use it in.