Best Humidifier for Dogs and Cats
In winter, both humans and pets enjoy a warm, cozy spot indoors. Unfortunately, the dry air, produced by the central heating systems hurts not only us but also our four-legged friends. A mist humidifier is a great solution that fights the dry air's unpleasant side effects. Check out the following post to learn more about the best humidifier for cats and dogs.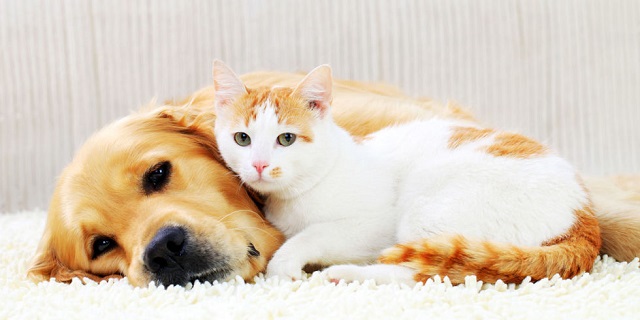 How Does Dry Air Affect Your Pets?
Heated, dehydrated air dries out the mucous membranes, especially in the nose, throat and bronchi. This increases the susceptibility to various diseases, as the so-called cilia cannot properly fulfill their natural cleaning function. Viruses and bacteria can so much easier penetrate the body since they thrive in dry air.
Besides causing respiratory tract irritation, dry air contributes to cracked skin, fragile hair, difficulties in getting a good night rest, snoring.
Humidifier Benefits for Cats and Dogs
You can combat dry air effects with a few tricks. The first concerns heating itself. The ideal room temperature for the vast majority of pets, including "exotic animals", is between 18 and 20 degrees Celsius. So, a first step would imply avoiding to overheat the house. This not only ensures the moisture supply but also keeps the bill in a decent amount. A second step would be frequent and thorough ventilation. Never just tilt the window, but open it completely and close it again after ten minutes at the latest. Fresh air is great for your health and ensures that bacteria and viruses don't thrive in a stagnant ambient.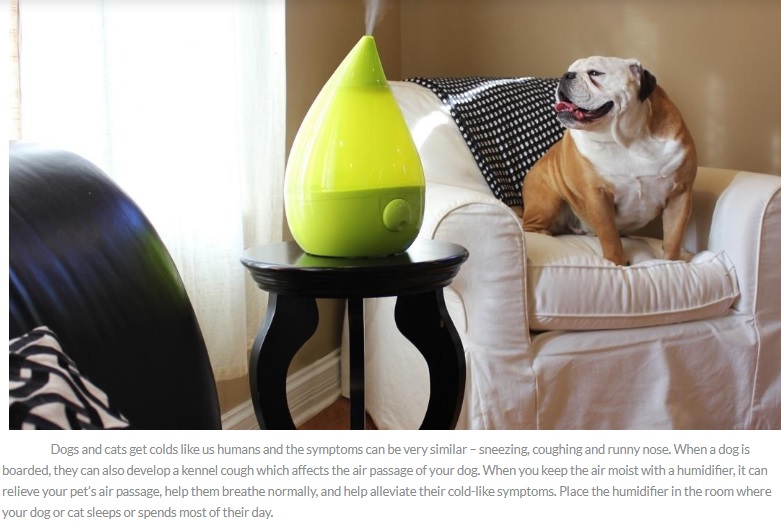 Also, consider buying a humidifier. You can opt for simple models, that you just fill with water hung on the radiator. Or you can benefit from the latest tech and choose a modern humidifier for a more satisfying user experience.
A relative humidity of 45% in the living spaces is optimal for people and animals. You can monitor the humidity levels in your home by using a hygrometer and some humidifiers have such a device incorporated.
Best Humidifier for Dogs and Cats
Our personal option when it comes to the best humidifier for dogs and cats is a humidifier/air purifier combo. This versatile appliance has more pros than cons and we develop both aspects in the paragraph below.
Pros of An Air purifier-Humidifier Combo
It has a complex action that not only humidifies dry air but also purifies it by removing dust, pollen, pet dander and other allergens. It makes it possible to enjoy healthy, fresh air in your home.
Ideal tool for removing stench, smell, germs and smoke particles making room deodorants obsolete and guarding you against unwanted chemicals.
This appliance even freshens up the air after cooking which we find pretty neat since most modern homes embrace an open space design. Also, our pets and their food don't always have the most attractive odor.
Using such a device improves breathing for both humans and pets, providing comfort for the different respiratory tract conditions: allergies, snoring, asthma, sinus infections, etc.
These appliances are a great add-on for the households situated close to roadways, business ranges and heavily used boulevards, where the ventilation would bring more disadvantages, due to the high pollution in these areas, than benefits. These gadgets have a real contribution to neutralizing destructive gas mixes.
Cons of An Air purifier-Humidifier Combo
Air purifier-humidifier combos are usually more pricey than a humidifier or purifier unit. But you should keep in mind that you actually invest in two appliances combines, which in the end mean less energy consumed and less space occupied.
High maintenance – considering the above premise of two devices combined, you generally have to invest twice maintenance, mostly in filters.
Let's see some competitive models so you can have a clearer image of what owning an air purifier-humidifier combo implies.
This model has 35 years of German innovation and technology behind it. The Venta LW15 Airwasher humidifies dry room air while simultaneously purifying it. It removes dust, pollen, pet dander, and other airborne pollutants down to 0.3 microns in size. The device is easy to maintain since it functions filter-free both for the humidifier and air purifier aspect.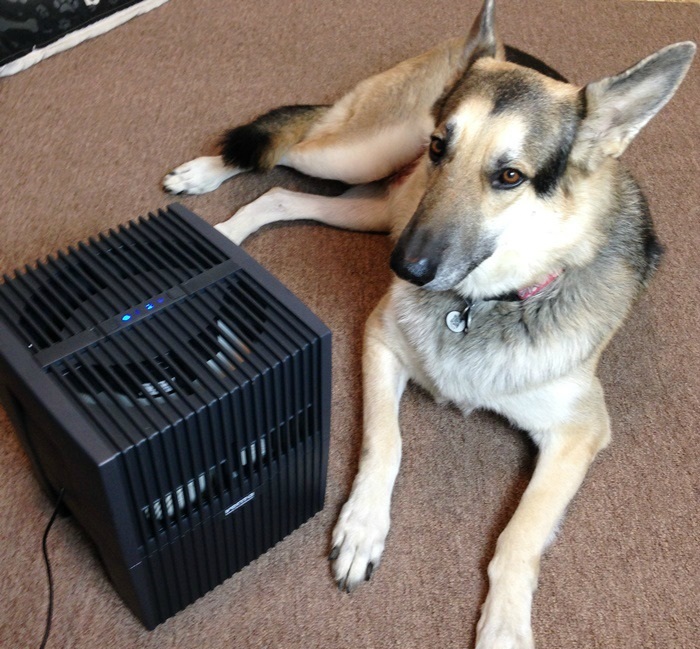 Features
Low power consumption, operating at 8 watts of energy or less
Ideal for up to 200 square feet spaces; perfect for bedrooms, offices, smaller living rooms and dens
Cold evaporation technology reduces excessive dampness and prevents the emission of white dust
Provides relief from throat, nasal and skin dryness
Helps reduce static electricity, moisturizes house plants, and preserves musical instruments and wood furniture
Auto shut-off
1.4 gallons reservoir
ETL approved
10-year manufacturer's warranty
Another example of German efficiency, the KLARSTEIN Monaco ultrasonic humidifier and air purifier delivers fresh, healthy air on demand. This model delivers great results for medium spaces, up to 430 square feet. The generous 1.6 gallons (6 liters) water tank, 3 power levels and rotatable mist nozzles ensure up to 8 hours functionality. It is also suited to combat unpleasant smells and odors. LED display and remote control contribute to the model's ease of use.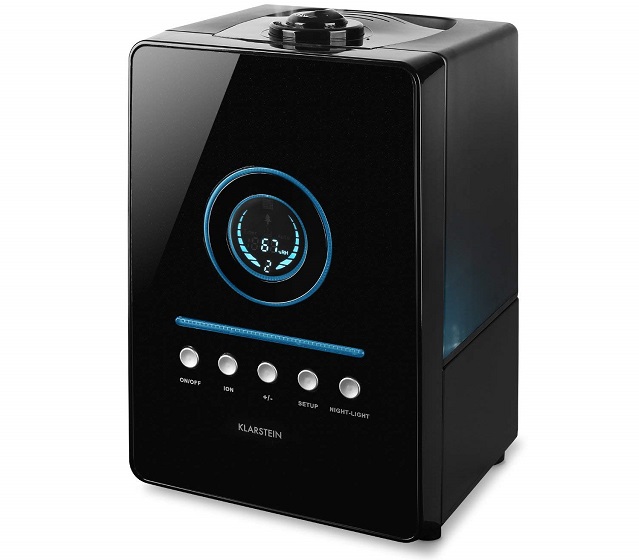 Features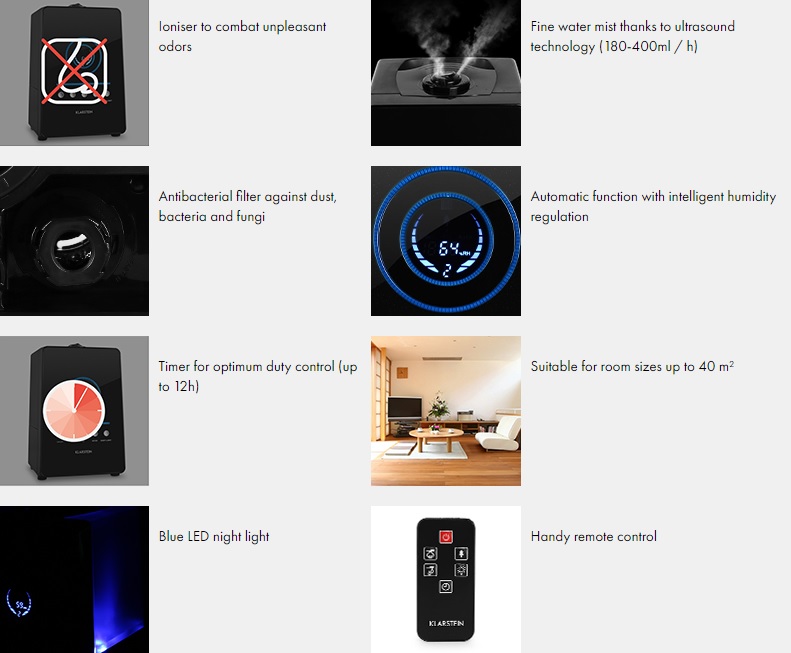 If design matters for you, you will be happy to learn that BONECO 2-in-1 Air Washer W200 is Winner of the prestigious Red Dot Design award. It is easy to use and to clean. A 1.18 gallons tank delivers great results for spaces up to  540 square feet.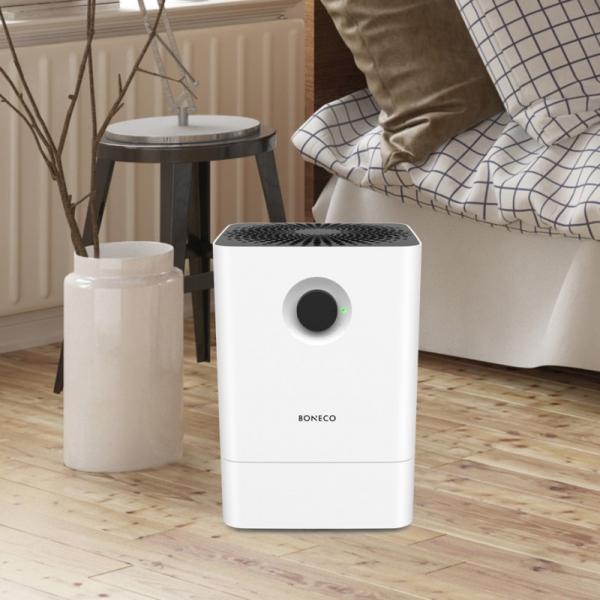 Features
Low power consumption 12.2 W / 22.8 W
Two performance levels for day and night mode
Automatic shut-off when water base is empty (red LED)
Fragrance container for the use of essential oils
Components are washing machine and dishwasher safe
Operating noise level 30 – 44 dB (A)
The Dreval D-950 has 7 stages purification and a combination of multiple filters. This ensures the efficient management of airborne pollutants up to 99.9%. A handy Odor Sensor detects pollutants and odors and adjusts fan speed to improve the air quality.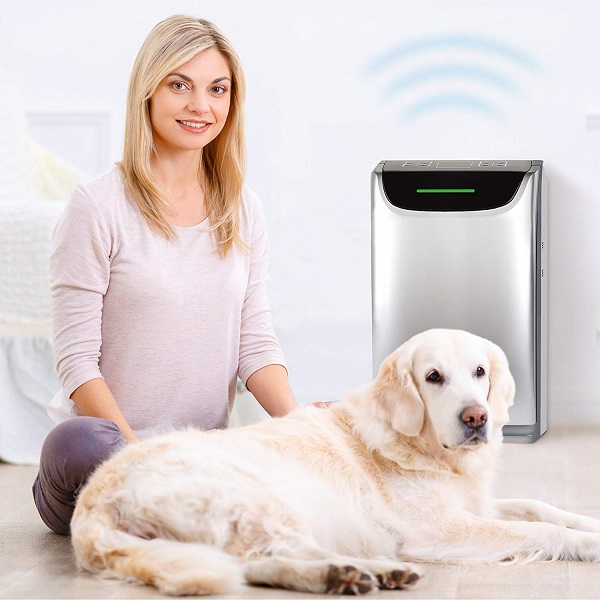 Features
Combination of multiple filters ensures effective filtration of airborne pollutants up to 99.9%
Odor sensor detects pollutants and odors and adjusts fan speed to change air quality
Encloses various technologies ultrasonic humidifier; negative ion generator and UV lamp
Quiet operation
Best Humidifier for Pets
If you only want the classic benefits of a reliable humidifier check out the models below.
This best seller, premium humidifying unit provides 16 hours of continuous, safe operation on it's lowest setting. It has a whisper quiet action and a very convenient 360° nozzle that directs the mist wherever needed.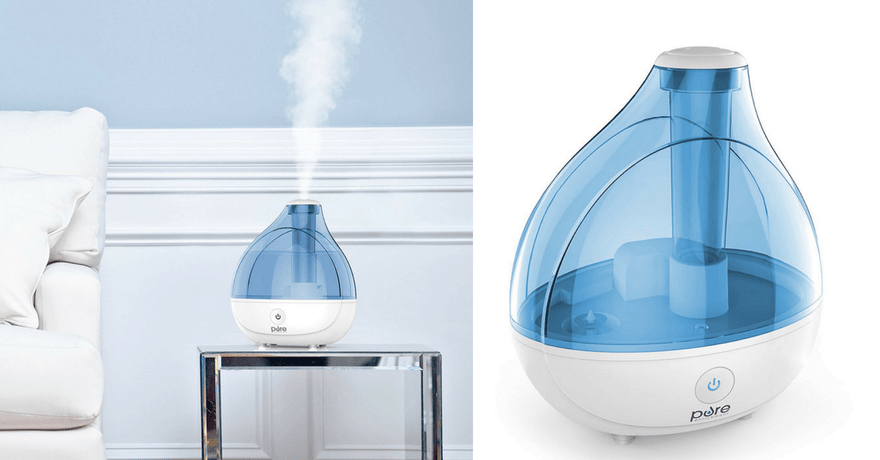 Features
Ultrasonic, cool mist technology
Up to 16 hours of continuous operation
High and low-speed settings
1.5-Liter water tank ideal for medium-sized rooms
Optional night lamp
Automatic shut off when the water level is low or you remove the water tank
2 Year Warranty
As the name states, with the help of this model you can enjoy everlasting comfort. A generous, 6l water tank provides the soothing mist for rooms up to 400 sq. ft and lasts 50 straight hours between refills! 360° mist nozzle, essential oil tray and antibacterial, antimicrobial, hypoallergenic natural ionizer and vaporizer functions make this model stand in the crowd.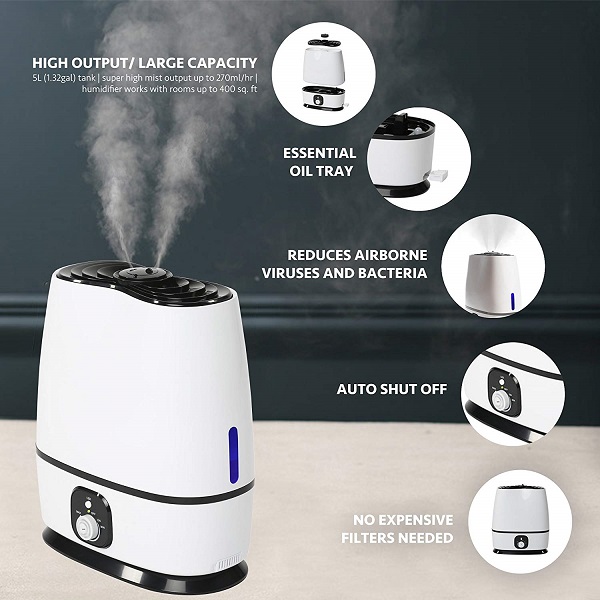 Features
Large capacity humidifier, 6L (1.6gal) tank,
High mist output up to 270ml/hr
Lasts 50 straight hours between refills
Ultrasonic technology for a quiet functionality
Essential oil tray
Blue LED nightlight
360-degree rotating nozzle
Fully adjustable mist and steam output knob
Antibacterial, antimicrobial, hypoallergenic natural ionizer and vaporizer
Automatically turns off when it runs out of water
Unique air humidifier design eliminates the need for a filter
If you want the best of both, the Levoit humidifier produces both cool and warm mist and distributes it with silent ultrasonic technology. It also has both Touch Control & Remote Control which makes for an easy breezy customization process. Not to mention, Smart Auto Mode that automatically diffuses mist to adjust the humidity to the most suitable level.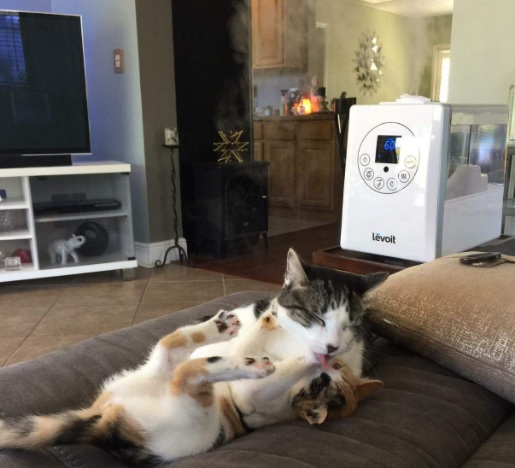 Features
6L/1.5Gallon Water Tank allows for 20 to 36 hours of continuous use
High mist output up to 500ml/hr
Built-in sensor allows you to control the humidity in the room on the LED screen
Aromatherapy tray
Touch Control & Remote Control functionality
Whisper-quiet produces less than 36 dB
Smart Auto Mode
2-year Warranty
Pets are truly loved members of the household. It is important to care for their health and wellbeing since they bring so much love in our lives. As shown above, the dry winter air can affect our furry friends as much as it affects us. A good humidifier can soothe the stressed skin and help fight respiratory tract issues and infections.
Consider your budget, the dimensions of the room where you intend to use the appliance most often, the customer reviews and you can make a solid choice.