Is a Humidifier Good For Pneumonia?
Pneumonia is a disease that infects one or both lungs. It starts with a viral, bacterial or fungal infection. This disease causes lung inflammation in the alveoli which are the air sacs in your lungs. Due to the inflammation, the alveoli are filled with fluid which makes breathing difficult. Babies under the age of five and elderly people normally fall prey to this infection which can be life-threatening. Pneumonia is the leading cause of death in children under the age of 5 worldwide. Bacterial and viral pneumonia are contagious through inhalation of infected air from sneeze and cough.
Types of Pneumonia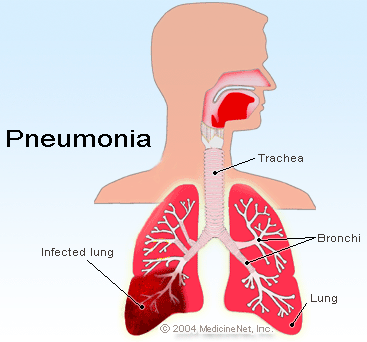 Various types of pneumonia are classified mainly by cause, transmission and where it is acquired from. The following are the major types of pneumonia.
Bacterial pneumonia. This is the most common type normally caused by streptococcus pneumonia.
Viral pneumonia. Results from flu and respiratory syncytial virus. It is not as serious as bacterial pneumonia and does not last long.
Hospital-acquired pneumonia (HAP). One can acquire this bacterial pneumonia during a hospital stay.
Aspiration pneumonia. This type is classified based on how it is transmitted. It occurs when you inhale bacteria from food and drinks.
Fungal pneumonia. Results from fungi from soil or bird droppings when one inhales these microorganisms. Also, it can result from other conditions like valley fever.
Signs and symptoms of Pneumonia
First pneumonia symptoms are similar to those of cold. The severity of these symptoms can range from mild to life-threatening. Common pneumonia symptoms include:
Cough that may produce mucus.
Shortness of breath
Cases of vomiting, diarrhea, and nausea
Chills
Chest pain especially when breathing
High body temperatures related to fever
Fast breathing especially for children
Confusion especially in elderly adults.
How a humidifier helps with Pneumonia
Pneumonia can be a disturbing health issue that can halt your day's activities. While at home, you can ease its associated problem with a humidifier. A cool-mist humidifier helps clear the lungs which subsequently makes breathing easy.
Humidifiers help in loosening mucus and easing coughs. These are cold symptoms resulting from bacterial infections which are also a causal factor of pneumonia. Thus, using this appliance at home may do more good than just maintaining the required levels of humidity.
Most warm mist humidifiers are known for the ability to add liquid medicinal inhalants. These inhalants are meant to help with cold and flu. One common plant extract inhalant is eucalyptus oil. It is an antibacterial that makes some people use it to fight bacteria that causes pneumonia. With a humidifier that allows for the dispersing of essential oils, you can diffuse eucalyptus oil which may greatly help you in dealing with pneumonia and its symptoms.
Warm mist humidifiers work by heating water to form steam which is diffused as warm mist. These appliances are known to produce up to 96% bacteria-free mist. This helps a lot in containing the spread of bacteria which may cause pneumonia. It also helps inhibit the growth of mold which is known to cause allergic reactions and even pneumonia.
What to Check When Buying a Humidifier for Pneumonia
Run time
This is the duration in which a humidifier can go before it runs out of water. It is directly proportional to tank capacity and rate of mist output. The larger the capacity, the longer the run time. If you are infected with pneumonia and would like to have treated vapor all night long, then you need an appliance that can run for long enough to cover you through the night.
Capacity
Capacity will define the run time of a humidifier. The ability to control the mist output may also make water in your humidifier last long. When you want to use your humidifier over extended periods, large capacities would be ideal.
Medicine cups
This is a compartment that allows the user to add inhalants which helps with breathing. This can prove very important in relieving lungs infected with pneumonia. Medicine cups also help in dispersing essential oils such as eucalyptus oil which is a good remedy for pneumonia.
Safety
No matter how you want to use your humidifier, safety is a concern that should be given primary priority. The last thing you would need is an additional risk to a family member infected with pneumonia. The quality and effectiveness of a humidifier would mean less if the appliance is not user-friendly.
Ease of cleaning
Every appliance should be easy to clean and maintain. This implies that the buyer should consider an appliance with well-designed components that are easy to clean and maintain. Everyone values time. The next thing a humidifier should not do is take all your time cleaning.
Price
The price tag is something you should not fail to look for especially if you are operating on a tight budget. A fair or friendly price will always be good for everyone. Some associate high prices with quality.
Best Humidifier For Pneumonia
Pure Enrichment MistAire Ultrasonic Cool Mist Humidifier
This appliance uses ultrasonic technology which makes it super quiet for tranquil nights. Your night is further relaxed by an optional night light. Its 1.5 liters capacity enables it to disperse cool mist for up to 16 hours. With this humidifier, you don't have to take night walks to check water levels or shut it off as it automatically shuts itself when water levels are low. It also helps ease pneumonia symptoms such as unproductive cough and congestion.
Features
This humidifier comes with a 360-degree mist nozzle.
Has a capacity of 1.5 liters
Has an auto-shutoff feature
Run time lasts up to to 16 hours
Rate of mist output is 150 ml per hour
Has an area coverage of 250 square feet.
Pros
Automatically shuts off when water levels are low.
Has a long run time of 16 hours of continuous use.
Its 360-degree mist nozzle enables one to direct the flow of mist. This is very important especially in directing mist away from electronics, pets, and fabrics.
The appliance is easy to assemble and disassemble for refills.
It covers a large area of up to 250 square feet
Cons
Do not have some features like humidity monitoring.
The humidifier does not have medicine cups which are essential in dispersing essential oils.
Pure Enrichment Ultrasonic Cool Mist Humidifier MistAire PEHUMGRY
This humidifier which produces cool mist comes with a large tank capacity of 1.5 liters which enables it to have a continuous operation for 25 hours. It features a sleek and unique design which makes it have an almost round shape divided into two hemispherical halves. These halves include a base and a tank which is made of transparent plastic.
Features
1.5 liters tank capacity
25 hours run time
Rate of mist output is 150 ml per hour
Has an area coverage of 250 square feet
Pros
Mist nozzle allows one to direct the flow of mist away from when it is not needed.
Has an automatic shut-off
Ease of disassembling and assembling makes it also easy to clean.
It is quiet
Cons
It cannot be used to diffuse essential oils.
Levoit
There are few humidifiers with a large capacity like Levoit which can hold 6 liters of water. It's run time is one of the longest which goes up to 36 hours thanks to its large capacity.
Features
Run time is 36 hours
Allows for aromatherapy using your favorite essential oils.
The maximum rate of mist output is 500ml/hr
Has a capacity of 6 liters
Pros
It has a large capacity which enables it to run for long.
The appliance is whisper quiet
Enhanced feature control which can be done with a remote or on a touchpad control.
Displays actual humidity levels and automatically diffuses mist when levels run low.
Cons
It's large which makes it heavy and also takes much space.
Everlasting Comfort Ultrasonic Cool Mist Humidifier
It makes a great visual appeal with its design which is very unique. This black humidifier comes with a capacity of 6 liters which makes it ideal to use over extended periods. With the Everlasting humidifier, you can add essential oils that can help in easing pneumonia-related symptoms.
Features
Has a capacity of 6 liters
Rate of mist output can reach 270ml/hr
Run time can go up to 50 hours
Area coverage is 400 square feet
Pros
Comes with an essential oil compartment
Runs long which makes it good for use over extended periods.
It is a natural ionizer which makes it a good antimicrobial.
Cons
Takes much of your countertop space.
VicTsing Cool Mist Humidifier
This appliance does not have anything out of the ordinary. It has a simple design made of BPA free plastic material. Just like most ultrasonic humidifiers VicTsing also has noise levels of 32dB which implies it is quiet than a computer.
Features
Noise levels are around 32dB.
Capacity is 2 liters
Has an area coverage of 100-270 square feet.
It has a run time of between 12 and 24 hours.
Rate of mist output is 180ml/hr
Pros
The tubular air duct makes the humidifying process quicker.
Has quiet operation which does not disturb sleep
Tilted nozzle creates a wide humidifying range
Its long working time makes it ideal for extended operations.
Cons
It cannot be used to diffuse essential oils.
TaoTronics WiFi Smart Humidifier
No products found.
If you are looking for a smart wifi mist humidifier that can be controlled with Google Home and Alexa, this appliance can also be controlled by the Sun Home companion app which makes using it a great experience. Its super silent mode is further enhanced with a sleep mode which also automatically turns off the lights. It has a 360-degree nozzle and three mist levels to choose from depending on the desired amount of humidity.
Features
Its operating voltage is 110V
Has a less than 36dB working noise.
Run time is 12 to 30 hours
The coverage area is between 107 and 322 square feet enough to cover most common room sizes.
It has a capacity of 4 liters.
Has a mist output rate of 100ml/hour minimum and 300ml/hour maximum
Pros
Its smartphone control enabled using the Sun Home app.
It supports both Google Home and Alexa.
Has a long run time of up to 30 hours which can be attributed to its large tank capacity.
Smart humidistat setting. This enables you to set desired humidity levels and the appliance automatically adjusts.
Cons
You cannot use Alexa to control timer and humidity
No products found.