Best Warm Mist Humidifier
A warm mist humidifier is particularly recommended for the cold days of winter. It works by boiling water, action that kills germs and bacteria and it is ideal for those that suffer from asthma and mold allergies. The warm mist that it produces, combined with antiseptic oils, prevents colds, flu, sinus irritation and helps keep a higher temperature in the room.
In the following post, you can study the best warm mist humidifier models on the market, with features and prices to help you get a clear view on what you could find to fit your needs.
Say goodbye to coughs, nasal and chest congestion, sore throat and irritated sinus with this humidifier from Vicks. The warm mist it produces guarantees a 95% bacteria free moist. The two power levels allow you to personalize your experience with this model and the generous, one-gallon water tank allows it to function continuously for 12 hours. A reset light alerts you when a refill is required and the model shuts off automatically when it runs out of the water. It is recommended for spaces between 1000 and 1200 square feet.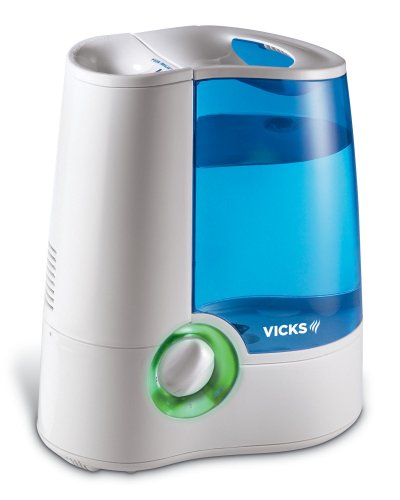 Specifications:
Quiet operation
Two settings for ideal comfort
Night-light allows humidifier to be seen in the dark.
Medicine cup for the addition of Vicks VapoSteam or Kaz Inhalant
1-gallon capacity; operates up to 12 hours on a single filling
Automatic shutoff
This dual mist humidifier is a versatile solution for dry nose, throat lips and itchy skin. It can be used effectively both in summer and winter and the split nozzle ensures bi-directional mist, covering larger areas. The ion exchange filter treats water to reduce scale-forming and protects the ultrasonic generator.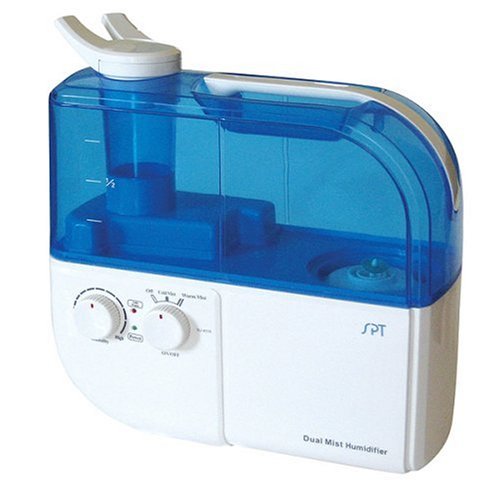 Features:
Dual function: Warm/Cool mist
ION exchange filter
Ultrasonic generator
Humidity output: 400cc/hour
Designed for rooms up to 500 sq. ft.
Split nozzles: 360° adjustable direction
4.0L water tank capacity
Overheat protection
Super quiet operation
Energy efficient
Cleaning brush included
If you want to forget about dry cough, irritated sinus or nasal congestion, Crane warm mist humidifier is ready to restore a healthy level of moisture to the air in your house. It creates a fine mist and the two control levels allow you to release up to 3.6 gallon of moisture per day.   The 1 gallon tank capacity is sufficient for at least 7 hours of continuous functioning. The auto shut-off function, when the tank is running out of the water, comes in handy, allowing you to sleep without worrying. No filter is required, making the maintenance fast and easy.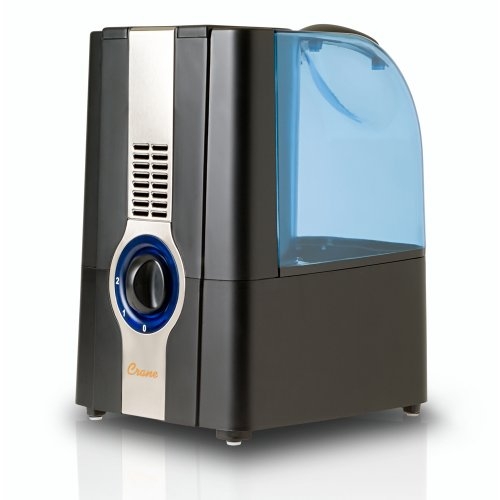 Features:
1 gallon water tank runs whisper quiet up to 8 hours
Mists up to 3.6 gallons of moisture per day
Effectively humidifies rooms up to 250 square feet
Steam outlet temperature of 131˚F ensures a germ-free mist
Tip over switch and auto off safety feature
Illuminated control switch
Medicine cup for vapor-liquid
Considering the quality of the air that we breathe, essential to the quality of our lives, Air-O-Swiss assumes the task of improving the air in our homes. Dry air affects our skin and makes us more vulnerable to illnesses. Suitable for rooms up to 650 sq. ft. this ultrasonic humidifier is capable of delivering up to 3.5 gallons of moisture per day. It comes with various functions: choose between warm and cool mist, control the level of moisture, intelligent temperature compensation, sleep mode, auto shut down when running low on water, function to remind you to clean the machine.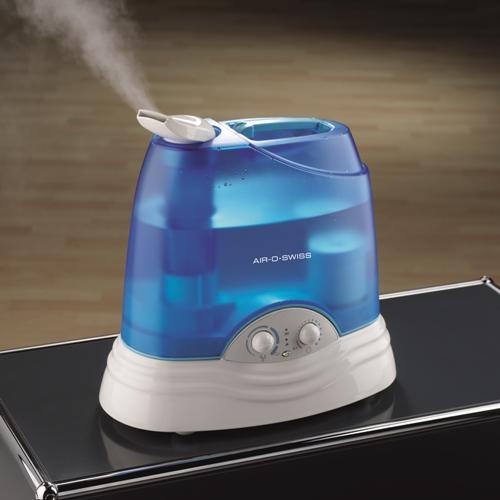 Features:
Fit for rooms up to 650 sq ft (60m2)
Produces cool or warm (104 °F (40 °C)) mist
It has a Sleep mode function: it ensures a comfortable night humidity level
Industrial strength titanium membrane surface guarantees fast dispersal of mist into the air and ensures long-lasting use
This filter-free, warm mist humidifier from Honeywell allows you to enjoy the benefits of a great appliance without the worries for complex keeping. Very useful during cold, dry winters, the humidifier heats and purifies water, releasing soothing warm moisture in your house. It includes medicine cup if you want to treat yourself with some essential oils. It runs continuously up to 24h and it is  very quiet.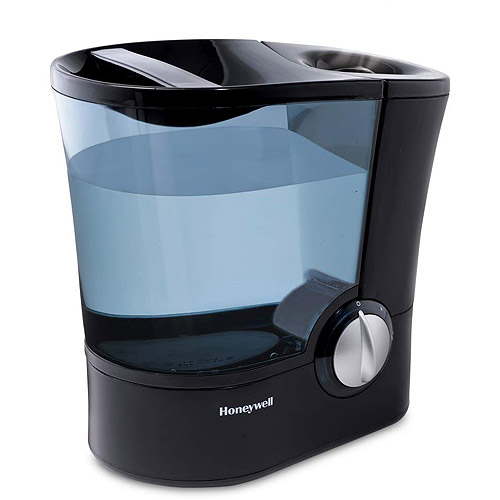 Features:
Quiet, filter free operation
2 moisture output settings
Medicine cup
Auto Shut-Off when water drops below minimum levels
Easy to Maintain – Large Tank opening for easier cleaning
Refill Light illuminates when water needs to be added
Recomended for medium size rooms
Runs up to 24 hours per filling
For smaller rooms the Holmes HWM6000-UM humidifier provides the ideal humidity level, fighting dry air and protecting from it's damaging effects. With a 0.9 gallon tank capacity, it requires more often refills but it is still capable of  delivering 10.5 Oz/Hour Output and work continuously for 24 h.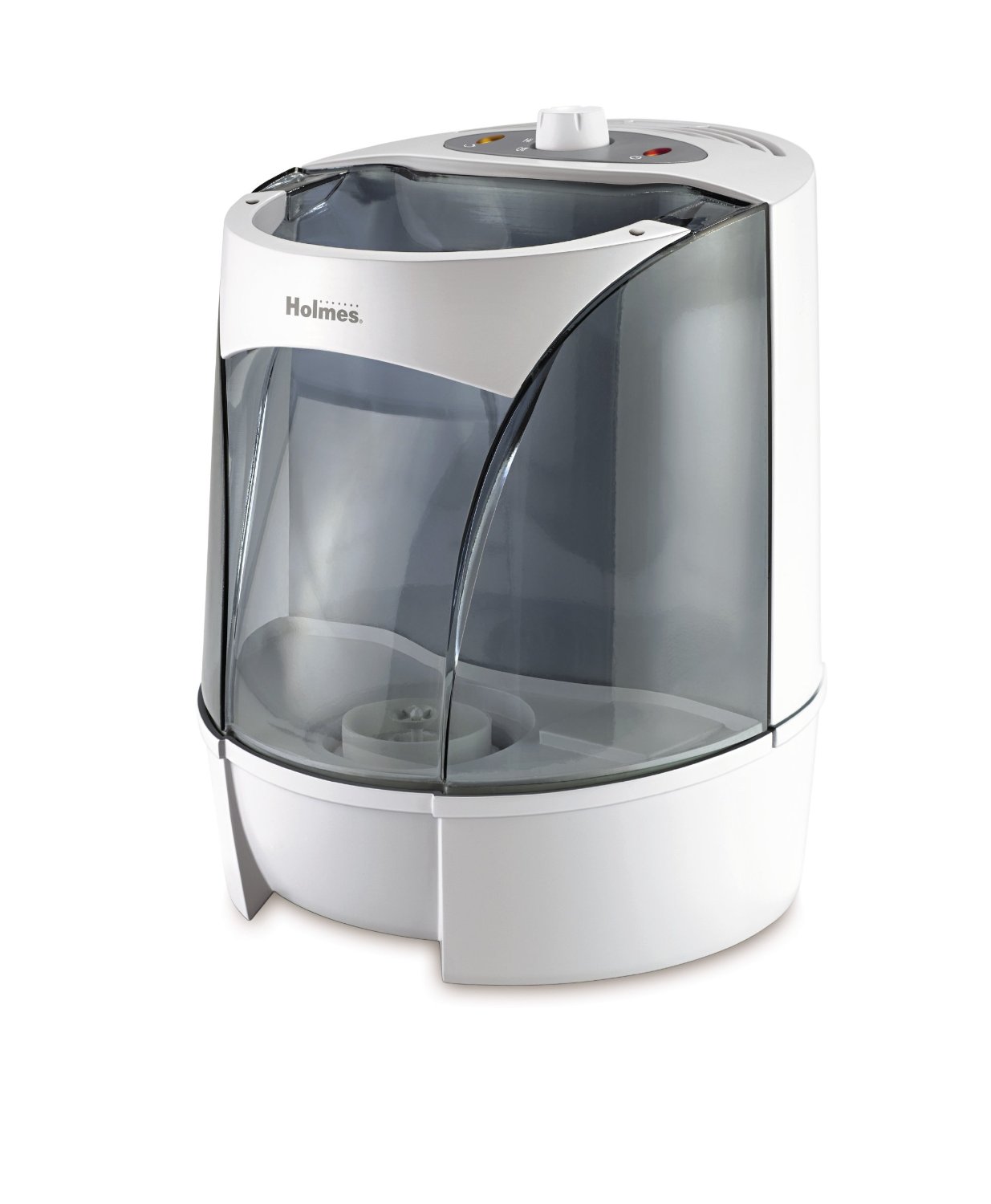 Features:
Runs Up To 24 Hours On 1 Filling
No Filters To Ever Replace
2 Settings High and Low
Antimicrobial Product Protection
This is another, very popular and effective warm mist humidifier. The SPT has a fragrance oil diffuser that emphasize the beneficial action of the warm mist. The generous, 2.5-liters capacity tank ensures a continuous 8 hours functioning. It also has auto shut-off protection.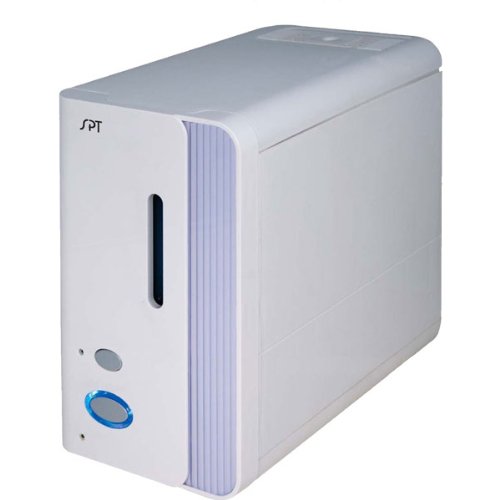 Features:
2.5-liters tank capacity
2-hout timer function
Up to 8 hours run time
330ml/h moisture output
330ml/h moisture output
Auto shut-off protection
Water-out indicator
Diffuser for medication or fragrance oil
If you prefer a strong, powerful steam humidifier,  the Air-O-Swiss S450 could do a great job. By heating water close to the boiling point it ensures an hygienic method of humidifying the air, bacteria and mineral-free. It is innovative and effective  and unlike traditional models, the mist it produces is warm to touch and not burning hot, making it save to be around children.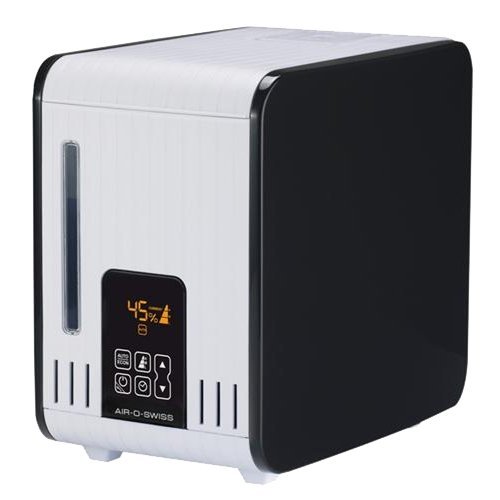 Features:
Touch Panel includes intelligent operation modes: AUTO- and ECON-Mode with adjustable hygrostat
Manual Mode with 3 Output levels
On/ Off-Timer
Automatic Display Dimmer
Fragrance container for an additional scenting of the air
Decalcification mode for easy cleaning and decalcification of the water base
Removable water tank with handle for easy refills
Water level window
Empty and cleaning indicators
Anti-Mineral Pad to collect lime in the water base
Flat tank shape for easy water filling
Low center gravity for stable placement on floor