Bring Wellness into Your Life With These Smart Essential Oil Diffuser Models
Well-being is now known as "wellness". Although it seems a modern concept, its roots are ancient. The modern period comes with multiple intellectual, spiritual, and philosophical movements proliferated both in the United States and Europe. It brings a whole portfolio of alternative practices, including homeopathy, osteopathy, chiropractic and natural treatments. The idea that the source of physical health is in the state of mind is becoming more and more popular.
In the 1790s, physiotherapist Christian Hahneman developed homeopathy, a system that relies on natural substances to stimulate self-healing responses from the body.
Nowadays, it is easier than ever to show interest in wellness and practice small, but efficient, activities to enjoy a good state of the mind of body. There is an entire industry on this topic including yoga studios, spa retreats, balneotherapy, herbalist (phytotherapy) stores, etc.
With a little bit of discipline and ambition, you can bring positive changes to your fitness routine and nutrition habits in order to bring more wellness into your life.
Aromatherapy could be an important first step and a smart essential oil diffuser can make the experience simple and intuitive. Check in the post below some top choices!
Smart Essential Oil Diffuser Models
Smart essential oil diffusers are a big hit these days! They combine many features that people love at the latest technologies: attractive design, ease of use, versatility, complex customization options. They make up for a perfect gift for the gadgets aficionados and literally improve your house atmosphere.
Below, we gathered some of the best models! Check them out and see if anything catches your eyes!
Alexa Compatible Smart Essential Oil Diffuser Models
If you love Alexa, the intelligent personal assistant developed by Amazon, you should be happy to find out that now she can help you with even one more thing. The smart essential oil diffusers have special apps that enable Alexa to remotely adjust mist output volume, on/off schedule and stunning color LED mood lighting to your preferences.
Looking like a kinetic artwork the RENPHO smart essential oil diffuser is compatible with Alexa and in the near future it is going to support Google Home devices as well. A generous 300 ml tank can provide continuous use up to 6-8 hours. When time is up or there is no water, it turns off automatically.
Features
Alexa Voice Control and App Control: Works with all Alexa devices including Echo/Tap/Dot/Echo Show (Not Compatible with Google Home for now)
Command the diffuser to turn ON/OFF by voice.
Use mobile app RENPHO SMART to remotely adjust mist output volume, on/off schedule, and stunning 7-color LED mood lighting
Advanced ultrasonic technology maintains air purity with almost zero noise.
100% Satisfaction Guaranteed: 12-month warranty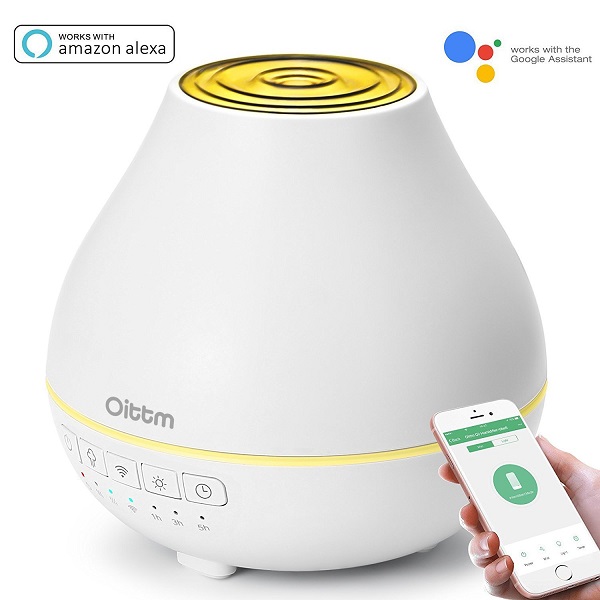 This nice-looking, Alexa-connected diffuser provides multiple customization options: set the mood using the perfect color or schedule it to automatically power on/off at any time. A generous, 200ml capacity water tank ensures functionality up to 8 hours. It comes with a lifetime warranty that provides serious ease of mind.
Features
Voice and App Control – Using "Smart Life" skill in Alexa App to command the diffuser to turn ON/OFF by your voice.
Or control it from anywhere through your smartphones or tablets with Oittm App.
Super quiet advanced ultrasonic technology
Auto shut off once the water gets to low or runs out.
Continuous work up to 8 hours
7 colorful changing LED night lights
Lifetime Warranty
VicTsing has a great reputation when it comes to producing reliable and efficient humidifiers. An attractive design, multiple functionalities and Smart Control promote this model amongst some of the more attractive, home improvement gadgets of 2018.
Features
Smart Control with Voice & App: works well with Amazon Alexa and Google Assistant.
It allows you to turn the diffuser on/off, adjust the mist, change the mood light color/mode and set the timer with the App "Ama Home" (available with IOS and Android),
2 extension tubes make diffuser spray higher and wider.
300ml water capacity offers a continuous working time of 8-15 hours in dense/light mist mode
7-Color Adjustable Mood Lights: also you can choose 4 more scene modes of the mood light with App control.
Whisper-quiet comfort
Use the latest technologies to transform your house into a calming and cozy space. ASAKUKI comes from Japanese and it means "morning air". Since the versatile gizmo is an air purifier, smart, ultrasonic humidifier and essential oil diffuser we see why they chose such a fitting name.
Features
SMART WiFi technology: control it via the eWeLink app and turn the purifier on and off or change the mode. The diffuser is compatible with Amazon Echo so it can operate with Alexa.
Adjustable: The air purifier has a large capacity of 500mL so it can work through the night for best results.
The diffuser has a light that can be turned off or dimmed
The humidifier can also work as an alarm clock and it has 3 modes
It stops automatically when running out of water
Money back guarantee, no questions asked within 30 days
Free replacement parts within a year
Enjoy a more convenient experience with this voice and app remote control, intelligent oil diffuser. A 300ml water tank and two mist modes provide a generous, continuous working time between 8 and 10 hours. 7 colors with two modes: steady on/cycling help you set the perfect mood.
Features
Works with Ewelink app
Smart diffuser compatible with Alexa to turn ON/OFF by voice control
Operate the aroma humidifier remotely from anywhere anytime through your smartphones or tablets with "eWeLink" App: such as change the color, mist mode, time setting.
Works with 2.4 GHz networks, it does not support 5G network.
300ML water tank: the essential oil diffuser can continuously work up to 10 hours with low mist mode or 8 hours on high mist
Automatically turns off when running out of water
Choose among 7 colors and between two modes: steady on/cycling
Very easy to connect with Alexa via Bluetooth or to manage it with an app installed on any mobile device, this smart essential oil diffuser and humidifier has a simple, yet elegant design. 3 intuitive buttons help you control the customization options as easy and fast as possible.
Features
Control the smart diffuser with Amazon ALEXA or controlled through its own app – UMIST. You can turn it on/off, control the mist output or select the perfect ambient light. Note: Only applicable to 2.4 GHz networks, not for 5G networks for APP functionality.
Capable or providing enough humidity and aroma for 300 square feet
7 pleasant color options: cycle through colors continually or choose one that you prefer most.
Noise-free and easy to clean
This last model is not a Smart oil diffuser but is functions also as a Bluetooth speaker, clock and alarm which makes a pretty useful nightstand add-on if you prefer a more versatile gadget. So you can gain tranquility and stress relief with a combination of your favorite music and the right type of essential oils. It is also a fantastic gift for people who are into this aromatherapy trend!
Features
not a Smart diffuser but a Bluetooth speaker, clock and alarm
• To create mist: Remove the Diffuser's cover and press "Mist" to start
400 ml generous water tank
7 colors LED lights
As you can see there are quite a few smart essential oil diffuser models on the market.
To conclude: they provide enough variety to satisfy any requests when it comes to design, shape and functionality. The majority double their functionalities as mist humidifiers so you can enjoy multiple benefits. When it comes to smart features the products are still pretty basic: Alexa can only turn them on/off. Via smartphone you can also change the mist mode or lights- this is pretty useful. We are going to monitor the niche and post any interesting updates when we have the chance.