How Do Humidifiers Help Babies?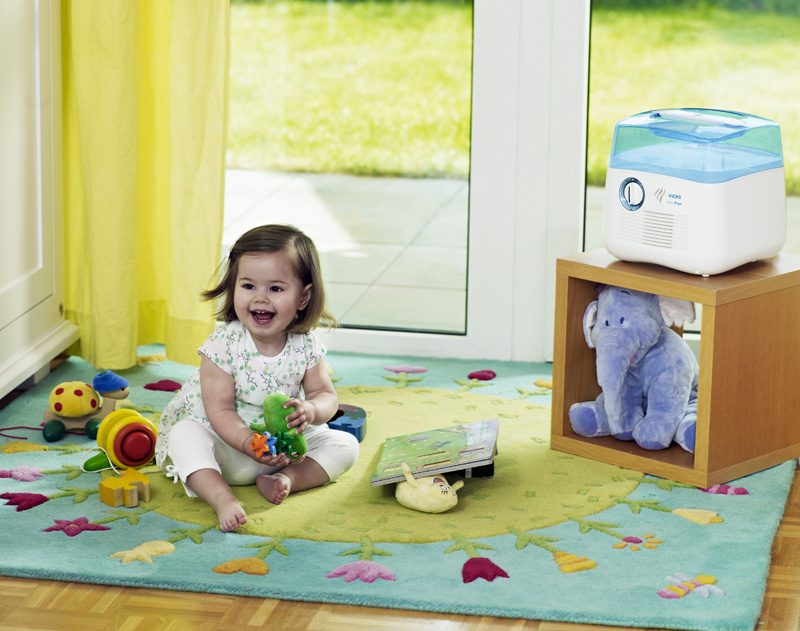 It is sad but true that babies are always the primary victims of cold. They are the worst sufferer in winter. The most effective way of fighting cold is using humidifiers. The moisture produced by a humidifier helps a lot in removing sore and dry throat, nasal problems, allergies etc. No mother wants to see the sufferings of their children for burning nose or sore throat. So, they are ready to take all kinds of necessary steps for the comfort of their babies. Humidifiers are treated as the best solution for the cold diseases of your babies.
Types of Humidifiers:
Humidifiers are of many kinds. Try to buy one according to your family-need. You may also pick colorful and attractive humidifiers for your children. But, first of all, you better consult your pediatrician and take a decision.
Check this post for: Best 3 Warm Mist Humidifiers for Babies
Check this post for : Best 3 Cool Mist Humidifiers for Babies
Central humidifiers can cover the whole room quite effectively. They are often used as a part of the heating system in your living room. But they hardly have sleep benefits like other humidifiers.
Ultrasonic humidifiers provide with cool vaporization. These kinds of humidifiers are usually a bit expensive and all cannot afford it. Still, you will have to make sure which one is useful for your baby, cool or warm humidifiers.
Steam humidifiers are largely supported for babies. Firstly, warm vapor is useful for the cold of your baby. Secondly, while boiling, the germs, toxic chemicals and minerals get destroyed with heat. So, your baby gets a pure humidified air to breathe in. Warm air is always clean and pure. Specially, for the new born babies, it is useful and healthy as it kills the germs.
Humidifiers for Baby's Sound Sleep:
Humidifiers provide with complete comfort in your baby's room. It ensures his sound and proper sleep. How does your baby pass a sleepless night for cold, is not unknown to you. Humidifiers thus remove these horrible moments from your life and keep your baby fine.
But, keep it in mind that these humidifiers may be the cause of your baby's disturbance. Some makes horrible noise, some do not humidify the room properly and a lot of issues are there. So, while buying this machine, take care of the features and pick up the proper one.
Baby's Post-Nasal Drip:
The post nasal drip gives them pain very frequently. When they catch cold initially, the mucous of their nose is usually thin.  But, when the mucous becomes thick, it creates problem. The throat and nasal passage do not at all remain moisturized. It causes burning nose, sore throat and allergies.
Now, you must raise questions, how can a humidifier help in this case? I must say, it is a humidifier that can rescue your child from this irritation. Humidifiers moisturize the air. This contributes a lot in turning your baby's mucous into a thin one. Thus, it prevents irritation in the nasal passage, sore throat and all kinds of cold problems.
Taking Care of Humidifiers:
When you are concerned about your little champ and buy a humidifier, then make sure, you keep it clean and hygienic. Though, the companies suggest you to clean it weekly, but the best way of keeping your living place comfortable is, cleaning it daily. Don't panic! It's a matter of five minutes only. If you can clean your humidifiers daily and give a very good wash weekly, then you may remain tension-free about its service and longevity.
The most important fact is that, humidifiers can have burn hazard. All electric machines have this kind of problem and humidifiers are not an exception to that. So, keep your one away from your children. Teach them to keep a safe distance from it. Otherwise, accidents may occur.
Conclusion:
It is not mandatory that, you should purchase a humidifier only when your baby is attacked by cold. Rather, I would like to propose, use a humidifier in your baby's room to ensure his sound health and comfort. To get the best service, maintain your humidifier properly.