Last updated on
February 2, 2017
A humidifier in the most basic sense of the word means something that generates and emits water vapor in order to keep the humidity in the space at the optimal level. The mist that they emit can be either cool or warm and some of these devices offer relaxing aromatherapy with essential oils as an addition to the mist that they are producing. Owning a humidifier can help you solve conditions such as dry skin, sore throat, cracked lips, sinus congestion, nose irritation etc. A helpful feature that you might want to make sure your choice of humidifier has is a built-in humidistat. This is a little device that is sensitive to the level of humidity and automatically regulates the humidity of the air in a room or building. Take a look at our choice of the best 4 humidifiers with humidistat control.
1. Honeywell HCM-6009 Cool Moisture Console Humidifier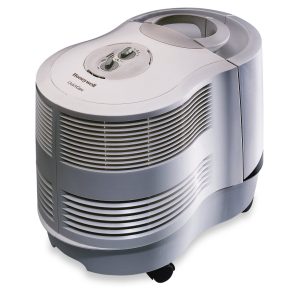 The Honeywell QuietCare Humidifier with its air-washing technology is providing relief from both dry air and common allergy symptoms. Its two tanks enable it to work for up to 24 hours on one water filling. Cleans the air in your house from dust, pollen, and bacteria and maintains an optimal humidity of the air in your house thanks to the Protec Pure Cool Moisture System. This humidifier with the Advanced Mist Humidistat can automatically regulate the desired moisture level in houses up to 2300 square feet of space. The QuietCare technology makes this model convenient to use when sleeping. This device will automatically shut off when the set humidity level is reached or when the water is consumed.
2. Aircare MA1201 Whole-House Console-Style Evaporative Humidifier by Essick Air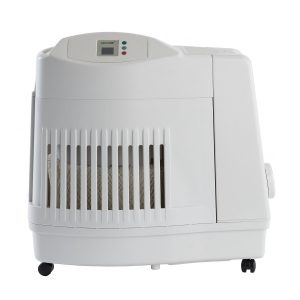 This is a cool-mist humidifier that can keep well moisten air up to 3600-square feet, with an average run time of 36 hours. With 4 roll casters and no pulley, belts, or wheels inside the unit to maintain, it's very easy to move it around the house and clean the mineral deposits from the wick. Thanks to the adjustable humidistat, this humidifier will automatically shut off when the desired humidity level is reached or when all the water in the tank is used. Its digital control can maintain the level of humidity anywhere from 30% to 60% and besides the health benefits from keeping the air with an optimal humidity, this will keep the wood furniture and floors from cracking too.
3. Boneco Warm or Cool Mist Ultrasonic Humidifier 7135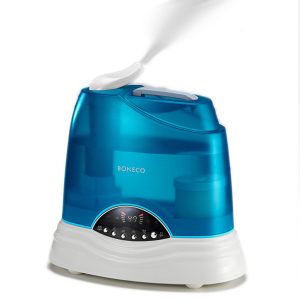 Although most humidifiers are either warm or cool mist humidifiers, this one gives you an option to choose between cool and warm. Some of the features are: a humidification selector that offers pre-setting and you can choose anywhere from 40-percent to 75-percent, automatic temperature adjustment for keeping an optimal level of humidity in the room, eight hours sleep mode set to 60 percent humidity and a 'clean me' light. This is an extremely quiet machine that can humidify 650-square foot room with a mist all day long before it has to be refilled. The spout rotates 360 degrees, so you can choose a direction.
4. Aprilaire 700 Automatic Humidifier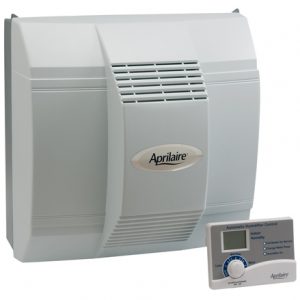 Aprilaire humidifier is a whole house quiet humidifier that has to be installed by HVAC(Heating Ventilation Air Conditioning) professional. It is a large machine that provides 50% more humidity than other humidifiers of this size and covers up to 4200 square feet space. Thanks to the digital control, you can pre-set the level of humidity you desire. Requires filters for removing the dust, which are very inexpensive and how often you are going to exchange them depends on the hardness of your water.
Conclusions
This 4 models are one of the best humidifiers with humidistat on the market and for sure it would help you control the humidity level in your home/ room automaticaly. For in deep reviews about them it would be best to check the reviews of the consumers who are using them for years.