Best 6 Portable Essential Oil Diffusers
Whether in the office, on the move or at the hotel, it is easy to feel scattered among several places. The austerity of the office, the stress of the car and the unknown of the hotel bed are all factors that can destabilize us and keep us from being the best of ourselves. A personal item has the power to comfort us and promote our integration in a space. For example, a pillow, a photo or jewelry are items that help make the transition between environments.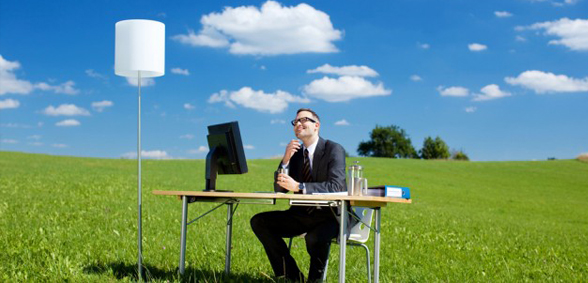 To feel at home, it is well to keep the habits that make you happy! And if you are an aromatherapy fan, bringing your essential oil diffuser along with your favorite oils can make any space more cozy and welcoming.
Check out the following post for the Best 6 Portable Essential Oil Diffusers that will make you feel at home anywhere you are while taking very little space in the luggage.
This tiny oil diffuser can be successfully used in the car, at the office or wherever else you might need it. It is very easy to set up and the included USB cord comes in handy while traveling. You can also use it with two AA batteries or an AC adapter (not included). Its incredible adaptability allows you to enjoy a spa-like atmosphere anywhere you go.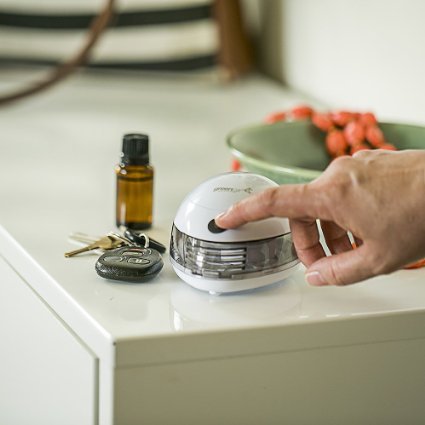 Features
No Water Needed! Instantly Deliver Aromatherapy Benefits!
Internal, Silent Fan * Gently Disperses the Essential Oil in the Air
Use Batteries, a USB Adapter, or an AC Adapter (Batteries and AC Adapter not included)
This versatile diffuser has the perfect size for travel. Enjoy your favourite oils in the car, at the office, at home, etc. It has 3 timer intervals – of 30, 60, or 120 minutes – and shuts off automatically when it runs out of water. The model has 7 Colors Mood Lights but you can also use it with the lights off.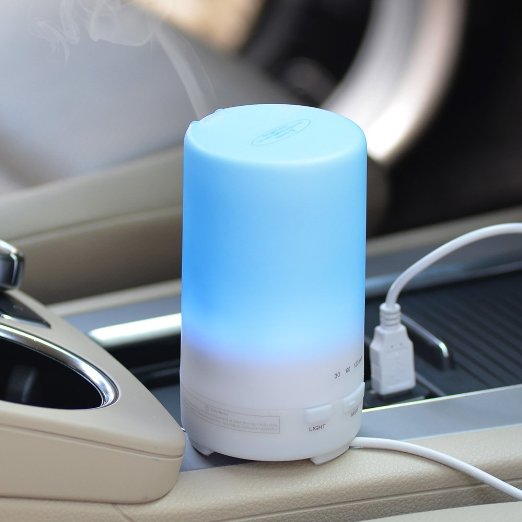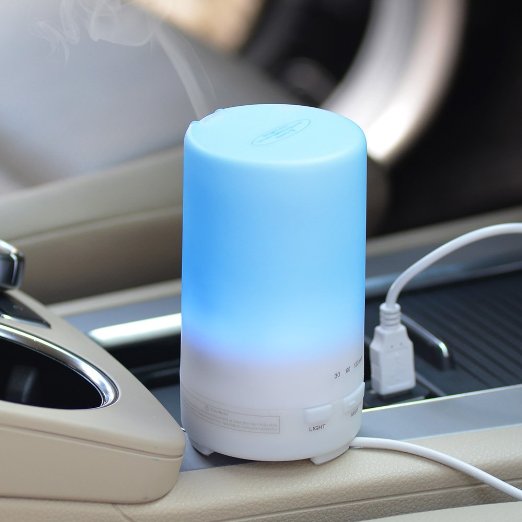 Features
USB Powered, plug the cable into car adapter, laptop or power bank for instant mist
Compact Size: 2.6(D)*4.6(H) inches. Space-saving diffuser for use in car, office, small room or in travel.
7 Colors Mood Light: Release work stress and lift your mood up.
3 light modes: Color changing/ steady on/ off.
Auto Shut Off: It auto shuts off when water runs out, no overheating safety concern.
This impressive little unit has a 100 ml capacity and it works perfectly for a larger room. With a full tank you can enjoy it for 3 hours on the constant mode and 6 hours the intermediate mode.
Features
100 ml capacity
Weight: 200g
7 changing mood lights , each of which is adjustable between bright and dim modes, and could be set steady on.
It powers off if there should be no water in it.
Pandawill® has released a mini portable humidifier to make it easier for anyone interested to enjoy the benefits of cool mist and aromatherapy, no matter the location. It is ultra-quiet, great for working or sleeping and it can be powered by AC adaptor, USB, mobile phone charger, power bank or car USB- so you are basically covered in any situation.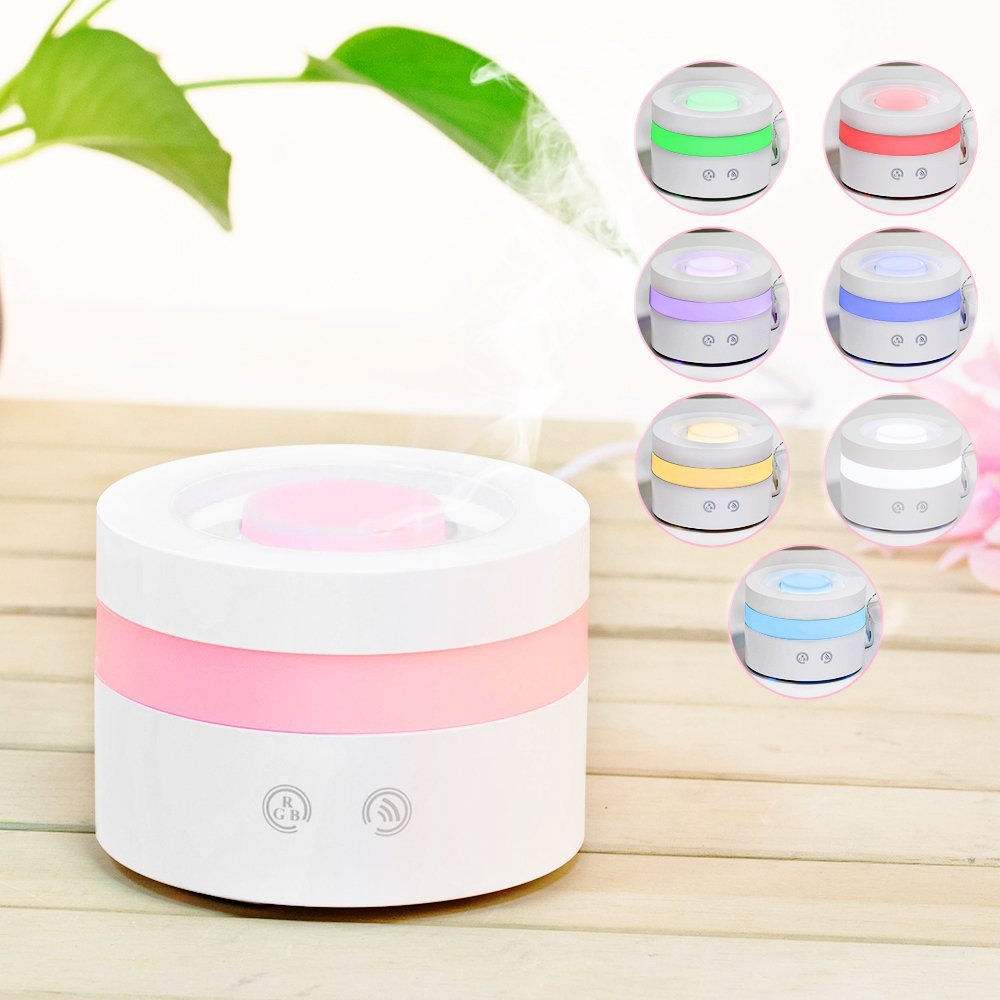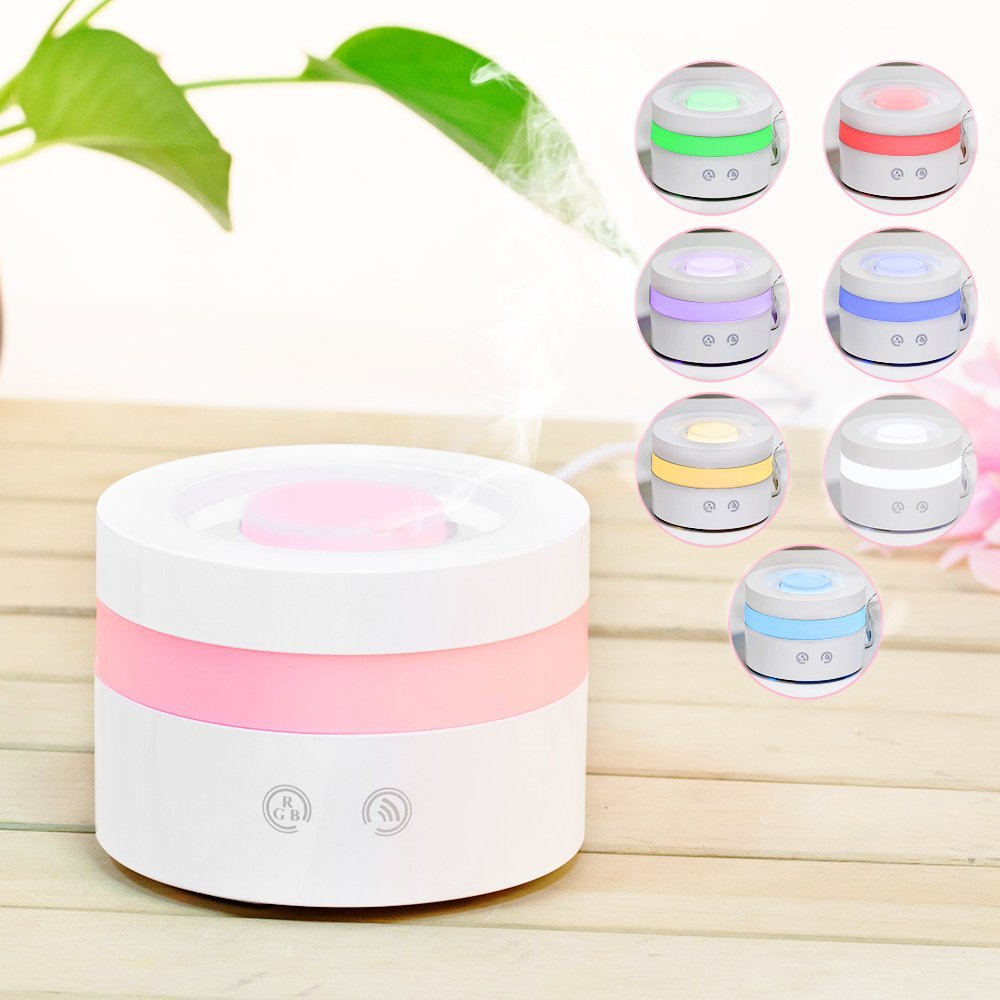 Features
Ultrasonic aroma diffuser, ultra-quiet design
Easy to use, 2 touch press button to control light and mist;
Water-proof design, auto shut-off function when running out of water;

2 light modes and 2 mist modes

7 changing colors
Working time: High Mist 4H /Low Mist 8H
This best seller model is very easy to use and intuitive. It has 2 settings for mist : intermittent 30 seconds on/ 30 seconds off or continuous. It automatically shuts off when the water runs off.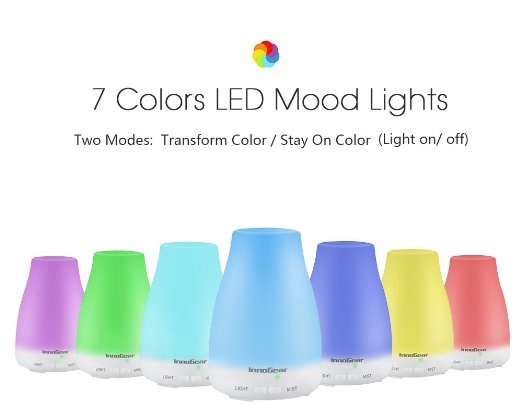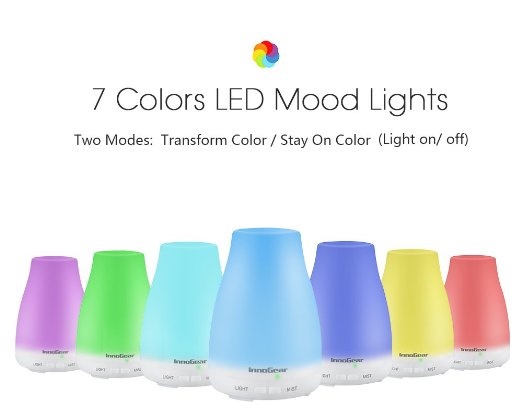 Features
Whisper-quiet, ultrasonic operation
7 Changing mood lights, each of which is adjustable between bright and dim modes and could be set steady on.
Shuts off automatically when the water runs out.
Three working modes: intermittent mist(30 seconds on/30 seconds off), continuous mist, lights only.
Content: 100 ml, Extra Long Power Cord: 6 feet, Item Size: 3.9 * 5.7in Weight: 11oz.
Working Time: 3 hours in continuous mode, 6 hours in intermittent mode
This model from Arespark  is a great way to enjoy flawless ultrasonic vapor technology in a compact design. Enjoy your favorite scented oils on vacation,your business trip or even in the office.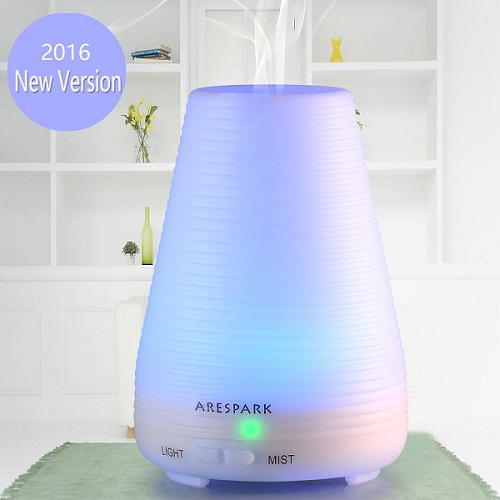 Features
Auto Shut Off: when water runs low, adds to safety, energy efficiency, and peace of mind- especially for use at night.
Portable for Home, Yoga, Office, Spa, Bedroom, Baby Room.
Soft Lighting: 7 Changing Mood Lights, each of which is adjustable between bright and dim modes and could be set steady on.
Great night light for young children scared of the dark at bedtime
Three Working Modes: Intermittent Mist(30 seconds on/30 seconds off), Continuous Mist, Lights only.
Working Time: 3 hours in continuous mode, 6 hours in intermittent mode.