Becoming a parent is a huge step in life, one that can seriously scare the new parents. The baby's every move is carefully monitored to make sure it has everything it needs for a carefree childhood.
One of those things that parents keep an eye out for is the quality of air the baby breathes. It can be monitored and shaped using devices like air conditioning or air humidifiers. Humidifiers are a cheap and simple way to control the moisture of the air, as well as any germs or bacteria that might dwell in your living room.
Check this post for: Best 3 Warm Mist Humidifiers for Babies
Here are some of the best humidifiers for rookie parents, looking for simple and effective humidifying devices:
Crane Drop Shape is an ultrasonic cool mist humidifier that has an output of almost nine liters of water (2.3 gallons) per day.
At such a humidification rate, it can effectively moisturize a room up to 25 square meters (250 square feet), making it ideal for small baby rooms.
Crane Drop Shape is an ultrasonic cool mist humidifier, which means the device is extremely quiet and will most likely never wake the baby up. Besides, being a cool mist humidifier instead of a warm mist, it cancels out the possibility of spreading mold and bacteria through the air, as well as the small possibility of burning the child, in case the machine malfunctions.
The device also has an auto shutoff safety sensor and a 360 degree nozzle. The nozzle, located at the top of the device, can send moisture in any direction needed.
Adorable is another ultrasonic cool mist humidifier from Crane, and even though it has a slightly lower water output, it is still very popular on retail sites like Amazon.com.
With the elephant design, it's a perfect gift that can help the baby breathe easier, as well as relieve it of cough, cold, and flu symptoms.
It can hold up to four litres of water (one gallon), and work up to 24 hours, effectively humidifying a room of 25 square meters (250 square feet).
Ultrasonic cool mist operation does not require a filter to run; it's extremely quiet and has an auto shutoff sensor.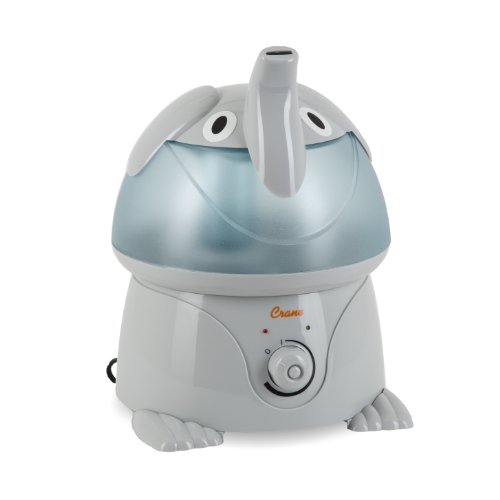 The Germ Free Cool Mist Humidifier is the best humidifier for those who're afraid their baby will catch a cold or the flu.
It's pricier than most smaller cool mist humidifiers, but promises to effectively kill 99.9 percent of all bacteria, mould & spores in the water.
It comes with the patented "germ killing chamber technology", as well as an antimicrobial treated filter, which will make sure the baby stays safe from those pesky germs.
It can receive up to 7.5 litres of water (two gallons), and runs for 24 hours on one filling.
And with a three-year guarantee, it's one of the safer bets in purchasing a cool mist humidifier for your baby.