Buying a humidifier in winters can save you from a lot of trouble. Dry weather brings alone too many diseases. Lack of humidity in the air can cause congestion, nosebleed, cough, extra dry skin, eczema, and many other allergies. Humidifiers add moisture into the air of a room and maintain a humidity level. The moisture in the air makes breathing conditions easy and also keeps the allergens and other dust particles to the ground.
When it comes to the humidifiers, Vicks is the name that has earned its trust over the period. They have become one of the best humidifiers manufacturers. They have designed many popular and most admired humidifiers in recent years.
Vicks is a brand for over the counter medicines especially cough medicines, Vicks, Vicks Vapor Rub, and some inhaling medicines. The brand is owned by Proctor & Gamble. The Vicks products were manufactured by a family-owned company Richardson-Vicks. In 1985 the company was eventually sold to Proctor & Gamble.
The best thing about Vicks humidifiers is that it uses the ultraviolet beam to prevent the allergens, bacteria, and mold from growing into the water and also from penetrating the air of the room.
But still, it doesn't mean that you should not clean the water tank of the humidifier. Stagnant water can grow mold and many another organism into it which is like leaving a pond of dirty water into your room. Changing the water of Humidifier regularly and cleaning the tank is essential for hygiene.
Choosing the right humidifier is important to gain its maximum benefits. Both cool mist and warm mist humidifiers have the same purpose of adding the moisture to the dry air and maintain a humidity level of the room. While cool mist humidifiers are more useful for summers, warm mist humidifiers are ideal for the winter and colder regions. Vicks manufacture both cool mist and warm mist humidifier you can choose the one that suits you the most.
So if you are looking for a humidifier to balance the humidity level of your room then certainly Vicks is the name you can trust. Here we have compiled a list of the best humidifiers of Vicks for your convenience. The list includes both cool mist and warm mist humidifiers along with their salient features.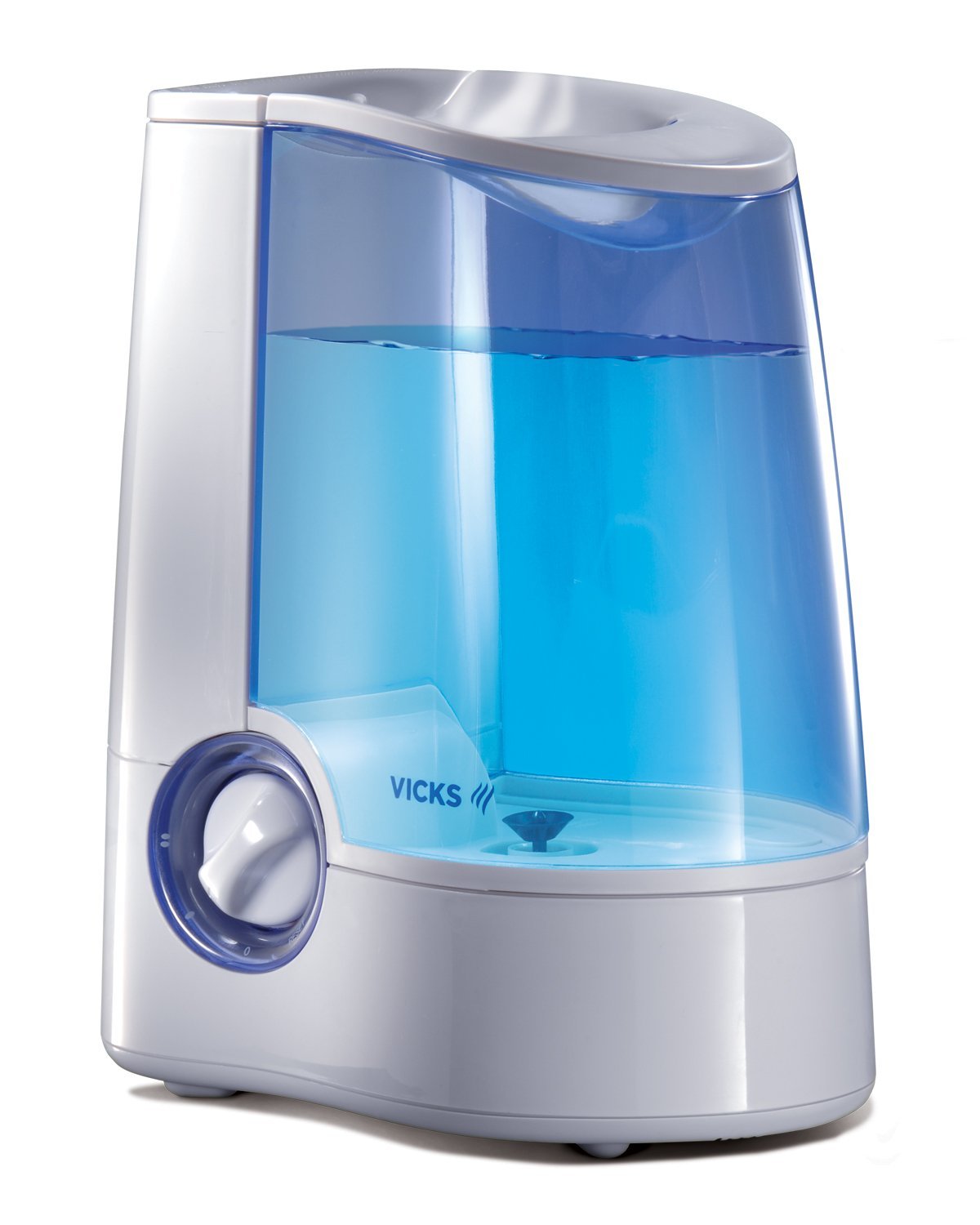 This warm Mist Humidifier is suitable for bedrooms, baby nurseries, kids' bedroom or any place. Sleeping with cold and flu can be difficult for kids or even grownups. Vicks warm mist Humidifier provides relief from coughing and congestion and you don't have to spend a restless night. Humidifier diffuse 90% bacteria free mist into the room. With a full 1 gallon of the water tank, the humidifier can run 24 hours. In cold, a humidifier can be used with Vicks VapoSteam for medicated vapors. It is easy to be moved from rooms to office wherever you need the instant relief.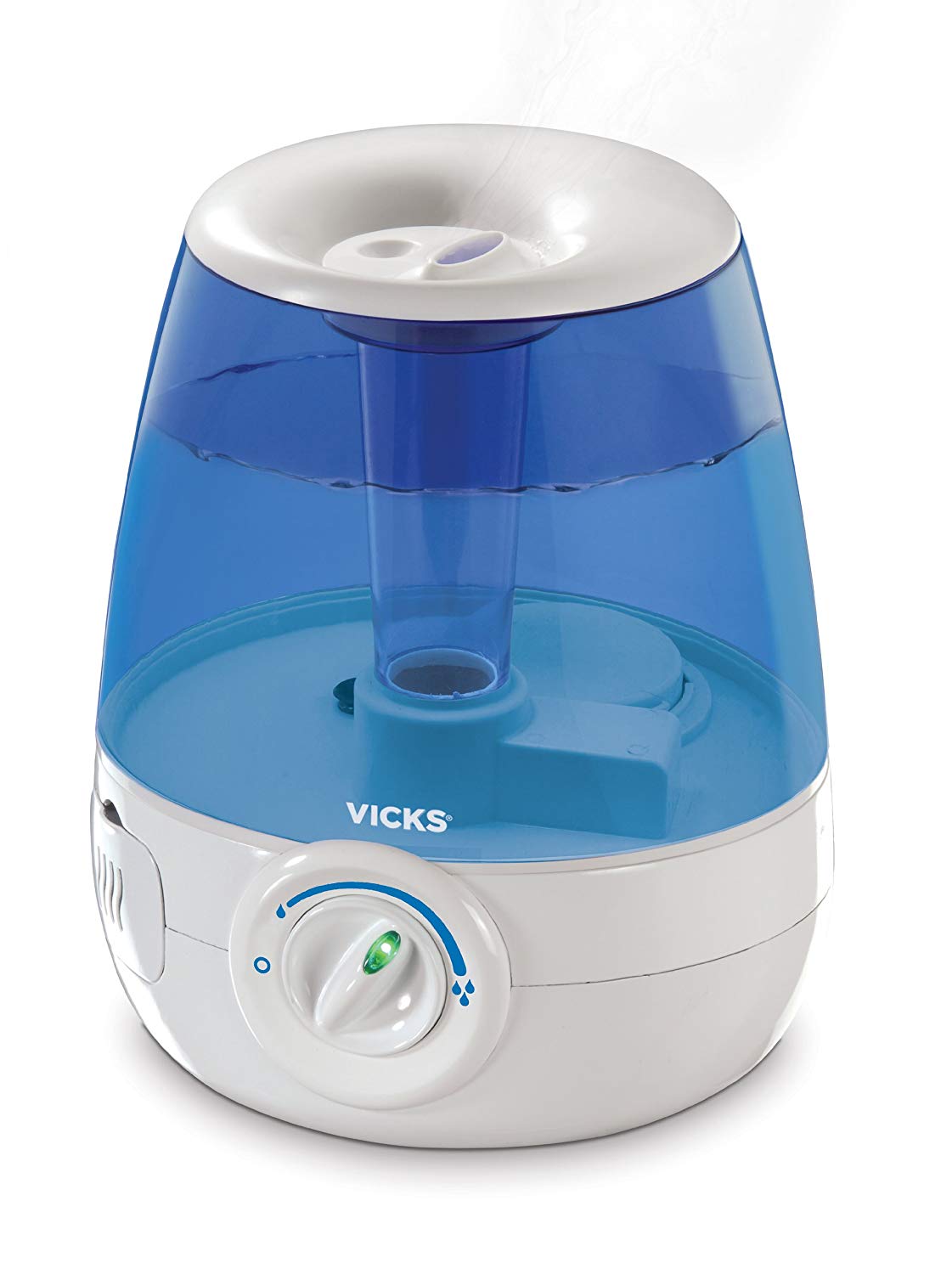 This cool mist humidifier is a great option to maintain the humidity level of a room in summer. Even in summer, the lack of moisture can cause breathing issues and a rise in temperature. This cool mist humidifier not only balances the humidity level of a room but it also keeps the temperature cool. The humidifier does not need replacement filters. The humidifier has a tank of 1.2 gallons for water so that you can spend 30 hours in soothing mist. One issue with cool mist humidifier is their noise, but this cool mist humidifier from Vicks is quiet, ideal for baby's nursery or your bedroom.
This Warm Steam Vaporizer has 1.5 gallons of water. You can spend 15-24 hours in comfort. It has a separate medicine cup allowing the use of Vicks vaposteam or Katz inhalant. The vaporizer has triple wall insulation for keeping the reservoir water at a safe temperature. With its auto shut-off, the humidifier is automatically shut-off when the water in the reservoir reaches its minimum level. The device has a large night-light that provides safety and convenience, especially in kid's room.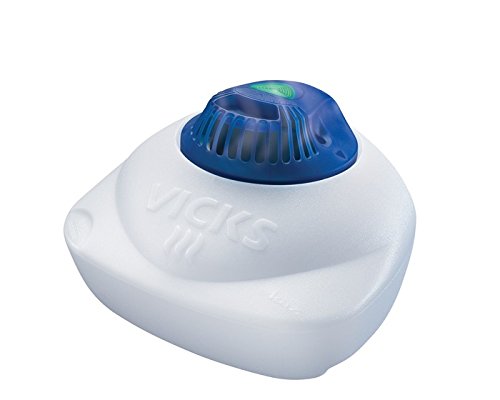 This vaporizer comes with 1 gallon of the water tank and can give you relief for the whole night. With its automatic shut-off system device automatically stops when the water reaches its minimum level. Its night light provides added security from accidents. The steam guard design of the humidifier keeps hands away from steam. In winter, babies or children can have a hard time sleeping with constant bouts of a cough and congestion. The steady steam adds moisture into the air thus providing relief from a cough and dry throat. Its twist and lift cap make the tank safe from accidents. This humidifier comes with a three years warranty.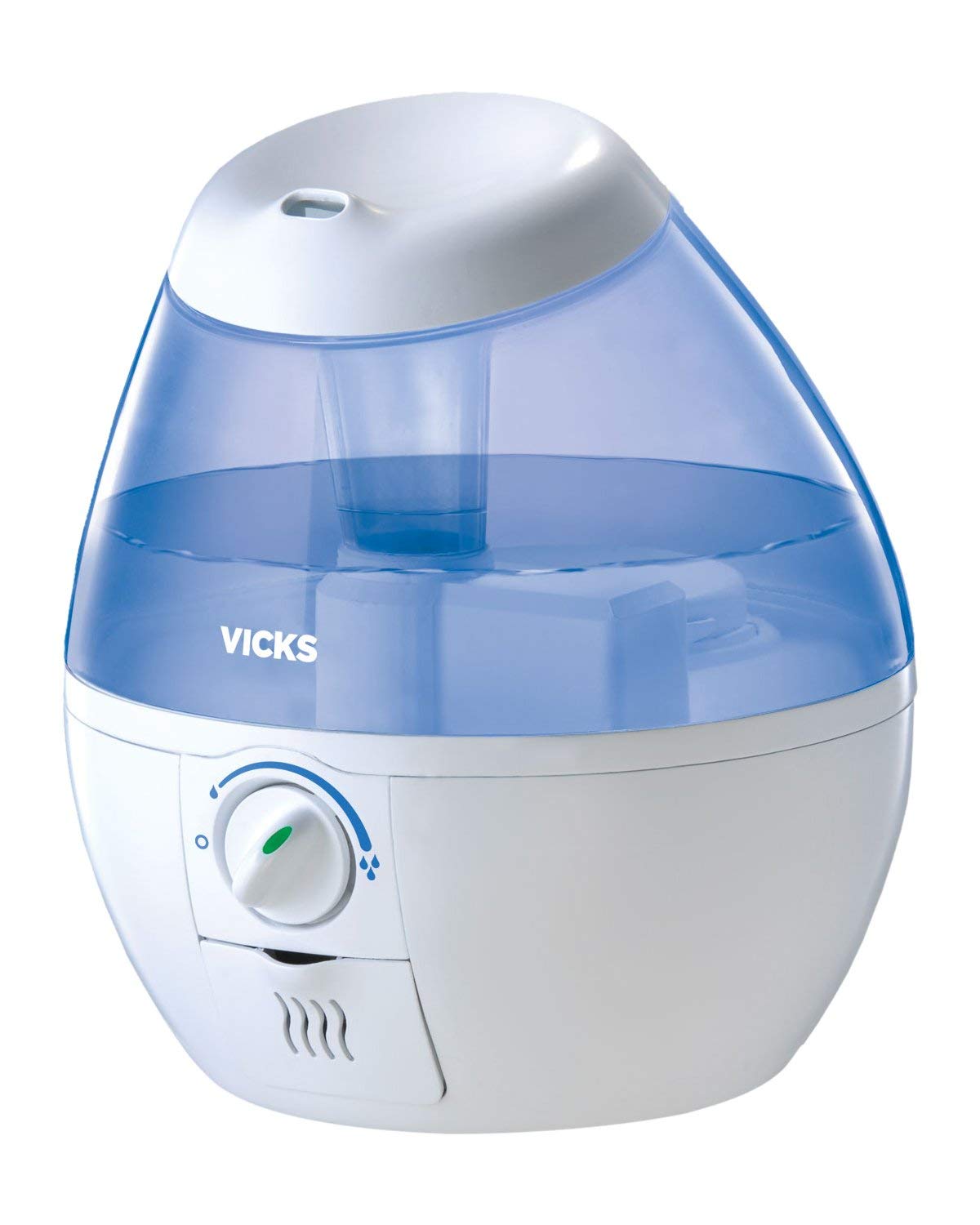 This mini humidifier has a half gallon tank and can give you 20 hours of soothing mist. This small humidifier is easy to be placed in any bedroom or baby's nursery. Unlike most cool mist humidifiers, this particular one is very quiet and ideal for kid's room or nursery. Its mini structure makes it ideal for smaller rooms.
In dry weather, humidifier becomes essential for a good night's sleep. This Vicks mini humidifier gives instant relief from congestion and cough and helps you breathe easily wherever you are from your bedroom to the office. Its auto shut-off system stops the device when water reaches the minimum level.
This cool mist humidifier uses an antimicrobial filter and is great for kid's room. With its 1-gallon water tank, humidifier gives 24 hours of nonstop soothing mist. The humidifier adds water vapor into the air and maintains the humidity level of the room. Its moving star light up is loved by children and gives a comfortable glow to the room. Its auto shut-off system automatically shut off the device when water reaches its minimum level.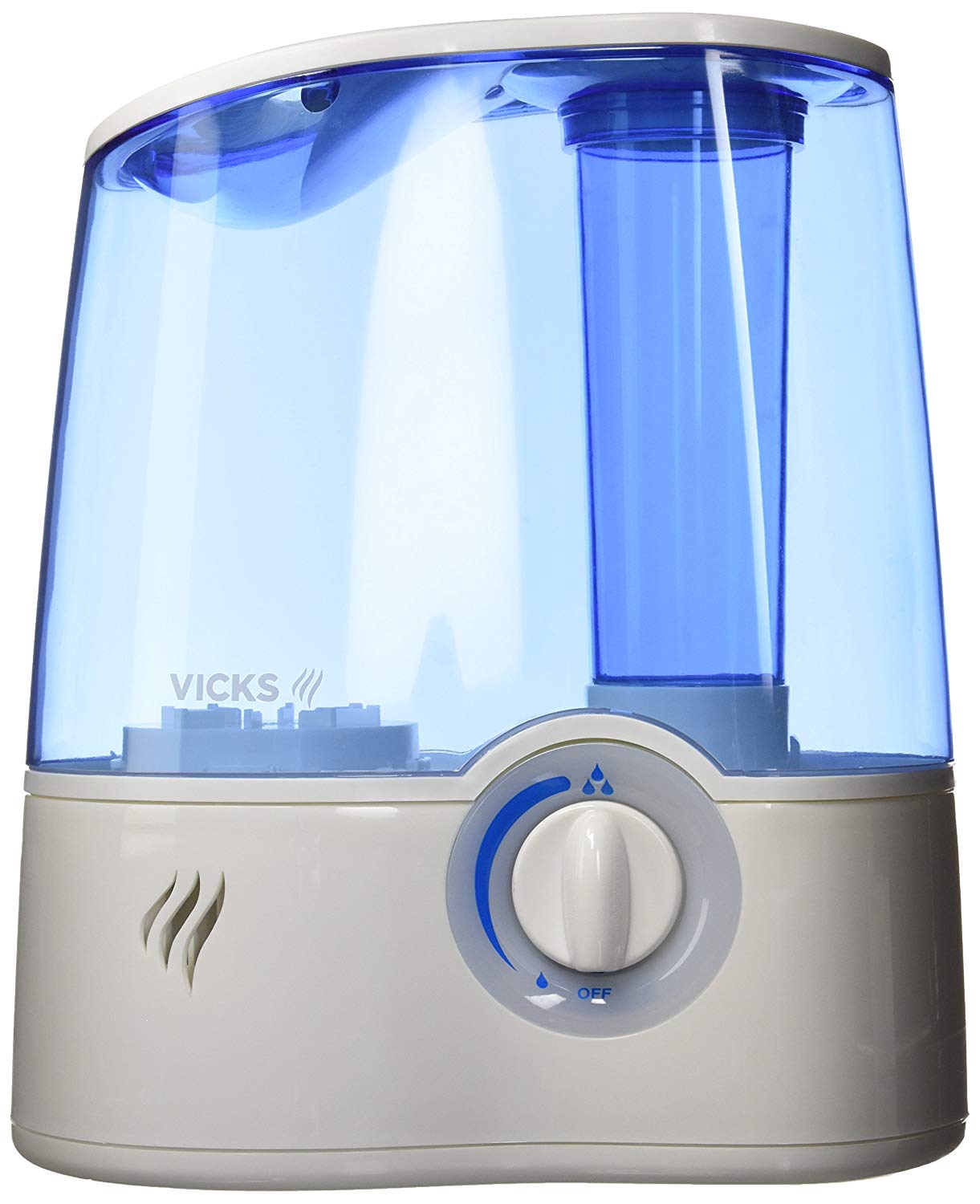 The right balance of humidity is needed for comfortable breathing. Vicks' ultrasonic Mist humidifier allows you the control to regulate the moisture level in the air. Too much humidity can give you a muggy feeling. This cool mist humidifier uses ultrasonic waves to send off cool mist into the air. Use this humidifier with VapoPads for the soothing scent of menthol into the room. The humidifier has a directional Mist Outlet that allows you to control the plume. It comes with a free protective Demineralization Cartridge that removes all minerals and impurities from the water. The tank holds about a gallon of water and gives night full of soothing mist.

This warm mist humidifier feed water from the tank to boiling chamber where it is heated to a pure steam vapor. These vapors are 95% bacteria-free and have no white dust. This steam vapors mix with the dry air of the room, giving instant relief from a dry cough and congestion. It comes with a medicine cup for Vicks VapoRub steam. The cup is easily washable in any dishwasher. The humidifier has a slot for scented pads and you can use Vicks' VapoPads for adding the scented smell of menthol, lavender, or rosemary into your room. Its carrying handle makes it easy to carry it safe wherever you need.